London 2012 Ends in Style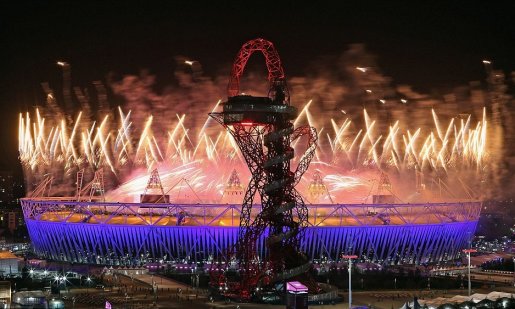 A spectacular closing ceremony marked the end of the Paralympics last night and officially ended the glorious Olympic summer of London 2012. The athletes were joined by Coldplay, Rihanna and Jay-Z in a packed Olympic Stadium as they all came together to celebrate the most successful Paralympics ever.
Team GB ended up with a staggering 120 medals, narrowly missing out on second spot in the overall table, behind Russia by just two gold medals. However, it was not just Britain's success that has made this the greatest Games ever, but the overwhelming support for every event in the last two weeks. Almost every session was sold out, and over 2.7 million Paralympic tickets were sold - beating targets by 200,000 and predicted sales by £10m.
Closing Ceremony
After such a stunning summer, the final closing ceremony had a lot to live up to, and it didn't disappoint (so long as you don't mind Coldplay). It was presented as a 'festival of flame' and fire played a major part in it. Coldplay, Rihanna and Jay-Z all played sets, with1,200 disabled and able bodied performers creating stunning visuals around them.
However, the athletes were the true stars of the show. Wheelchair athlete David Weir and cyclist Sarah Storey, both of whom won four golds at London 2012, carried the British flag into the stadium as all the athletes filtered in to enjoy one last party. Captain Luke Sinnott who lost both legs in Afghanistan, then climbed the flagpole to raise the flag, before swimmer Ellie Simmonds and 100m runner Jonnie Peacock put out the Paralympic flame for one last time.
The whole amazing ceremony can be seen below:
Speaking at the end of the ceremony, International Paralympic Committee president, Sir Philip Craven, said: "These Games have changed us all forever...They have been unique and, without doubt, in my mind and those of the athletes, the greatest Paralympic Games ever".
This was a sentiment echoed by organising committee chairman Lord Seb Coe, who was making his final speech of a hectic few months. Speaking about the Olympics and Paralympics as a whole he praised the Games, ending with:
"Finally, there are some famous words you can find stamped on the bottom of a product. Words, that when you read them, you know mean high quality, mean skill, mean creativity. We have stamped those words on the Olympic and Paralympic games of London 2012. London 2012. Made in Britain."
Athletes' Parade
However, the festivities are not quite over yet. 800 British Olympic and Paralympic athletes will be celebrating their success with a victory parade through London today. Twenty-one open-top floats will be travelling along the streets of central London from 1.30pm BST, and thousands of spectators are expected to turn out to cheer them.
The parade will start at Mansion House in east London, making its way through the Capital before ending at the Queen Victoria Memorial by Buckingham Palace. A huge screen has been set up in Trafalgar Square and will be showing the whole parade live, whilst a Red Arrows flypast will also be heading over The Mall.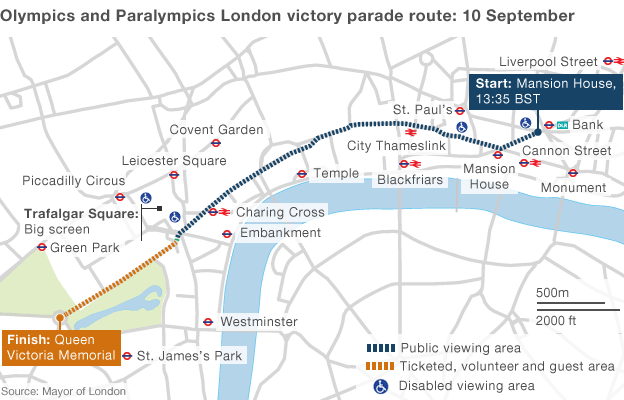 Click to see a more detailed map of the route.
Overall, the London 2012 Games have been a total success. London has embraced the Games in a truly British way. There has been huge support for every single one of the events and athletes, and even the tube has run almost perfectly. London and its inhabitants will certainly miss having the Games after enjoying one of the most vibrant and exciting few months in the city's history.
Share with friends