Foreign Fridays

Something special has started. Something that is going to change the world into an unrecognisable paradise. It's name? Foreign Fridays.
Well, maybe not, but here at Foreign Students we have created Foreign Fridays (catchy name eh?) to celebrate the amazing diversity of international food in the only way we know how- we eat it! Each week we take a different country's cuisine and we try some of it. Some of it we love, some of it we decide must be an 'acquired taste', but it is never boring.
And we want you to join us. Each week we will post photos and updates both on this page and on our Facebook and Twitter (hashtag #foreignfridays) pages of the food we are eating. In return, we want you to send us pictures of any international food you are eating, or even suggestions of what to have next week.
Here you can find an archive of all our previous Foreign Fridays: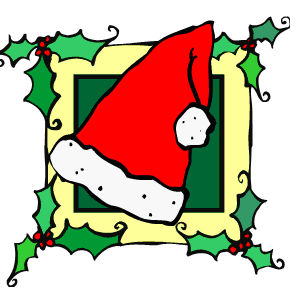 Friday 16th December 2011: Christmas!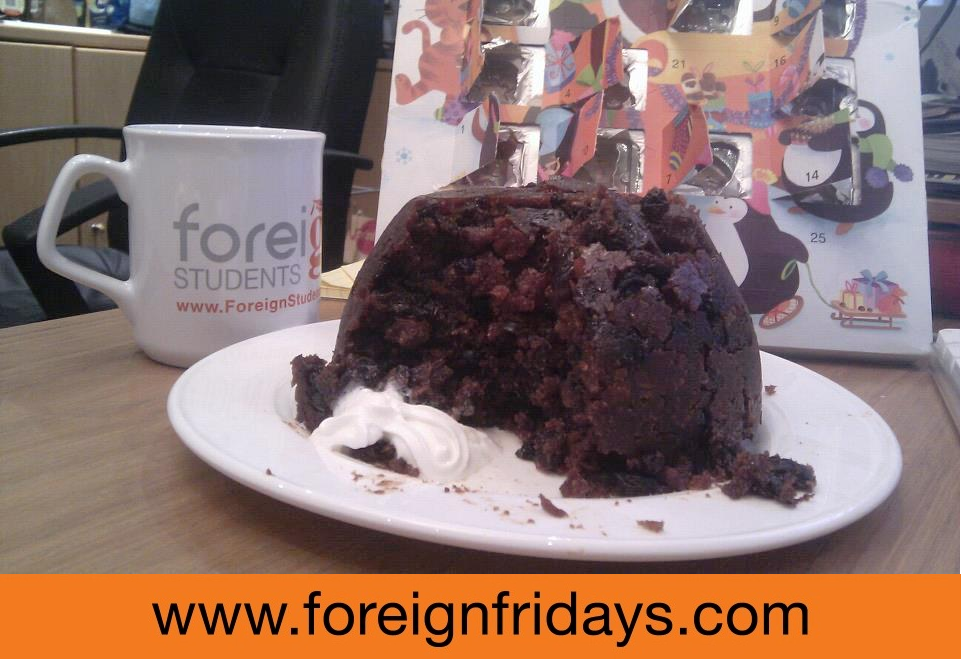 It's Christmas time! With snow falling across the country, shops absolutely mobbed and decorations going up, 'tis the season for rich food. And it doesn't come much richer than Christmas pudding. A very traditional English dessert had on Christmas day, the pudding is stuffed full of raisins, citrus fruits, spices, sugar and nuts, and drenched in brandy. Serve with cream or ice cream and you have the king of puddings. As this is the last Foreign Friday of the year, we wish you all a Merry Christmas and a Happy New Year!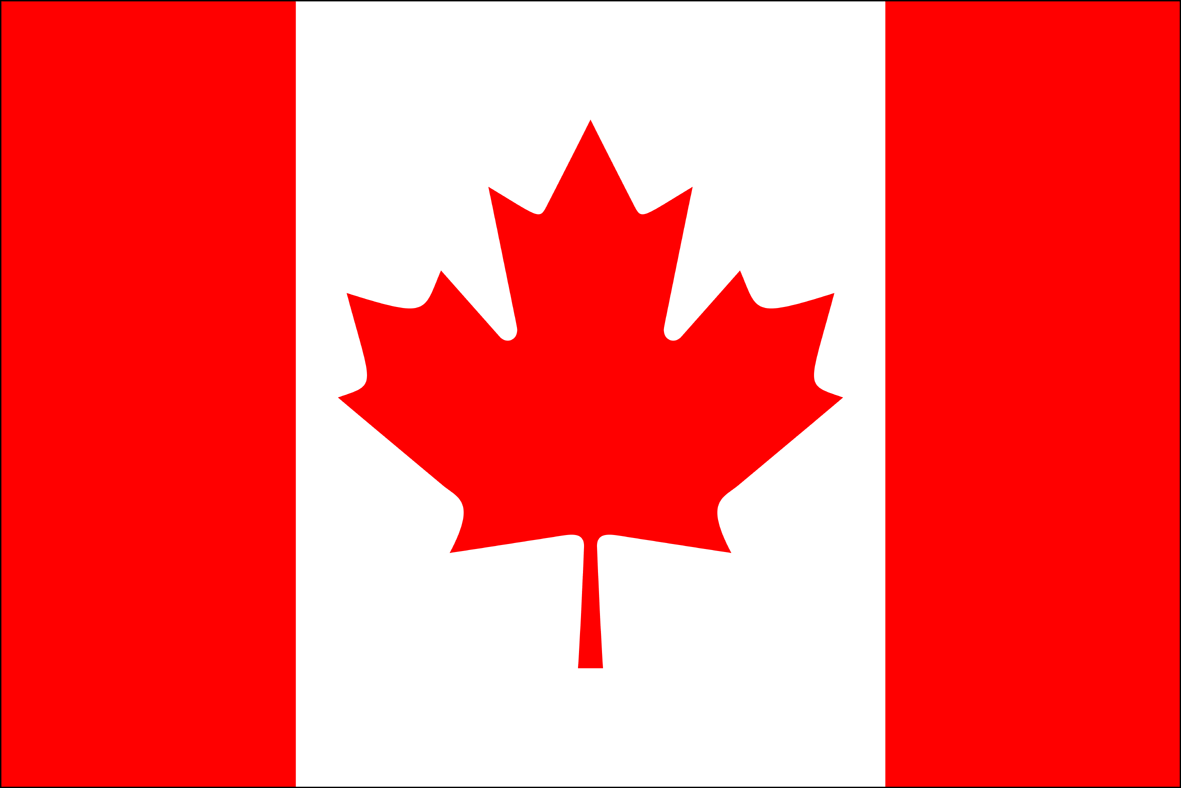 Friday 9th December 2011: Canada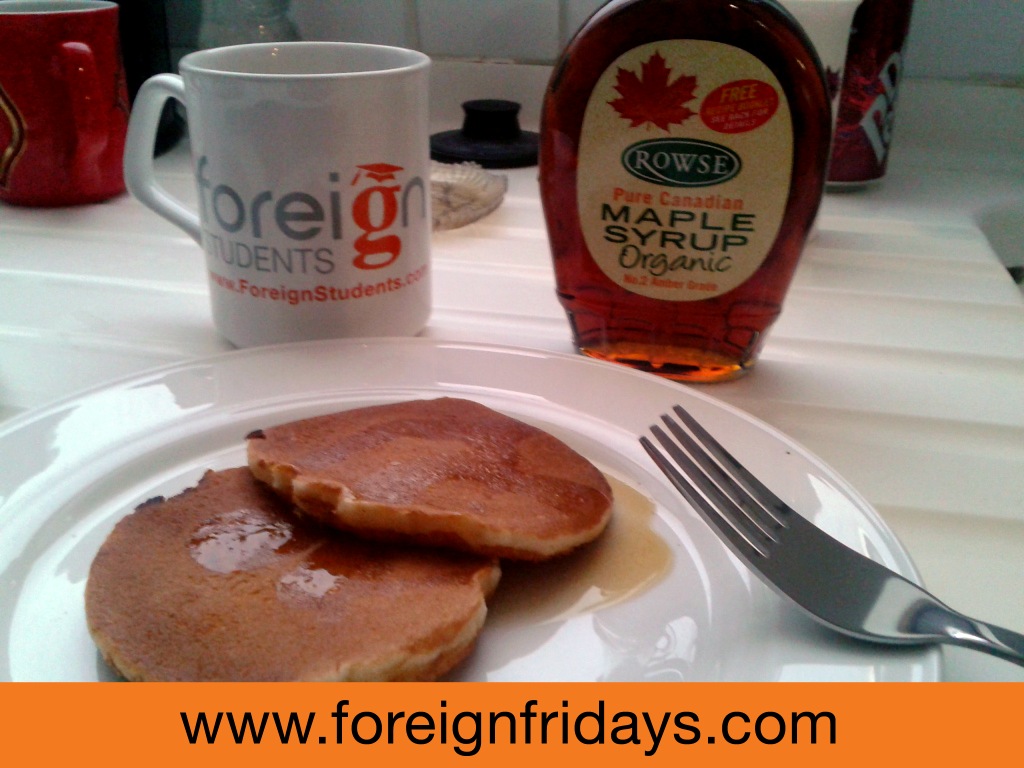 One thing is for sure, Canadians know how to do a good breakfast. With that in mind, we thought that pancakes and maple syrup would be the perfect Foreign Fridays to do on a cold winter's morning. There is nothing elaborate or fancy about pancakes soaked in rich, dark syrup, but there is certainly something magical about the combination.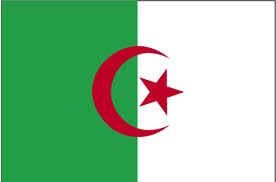 Friday 2nd December 2011: Algeria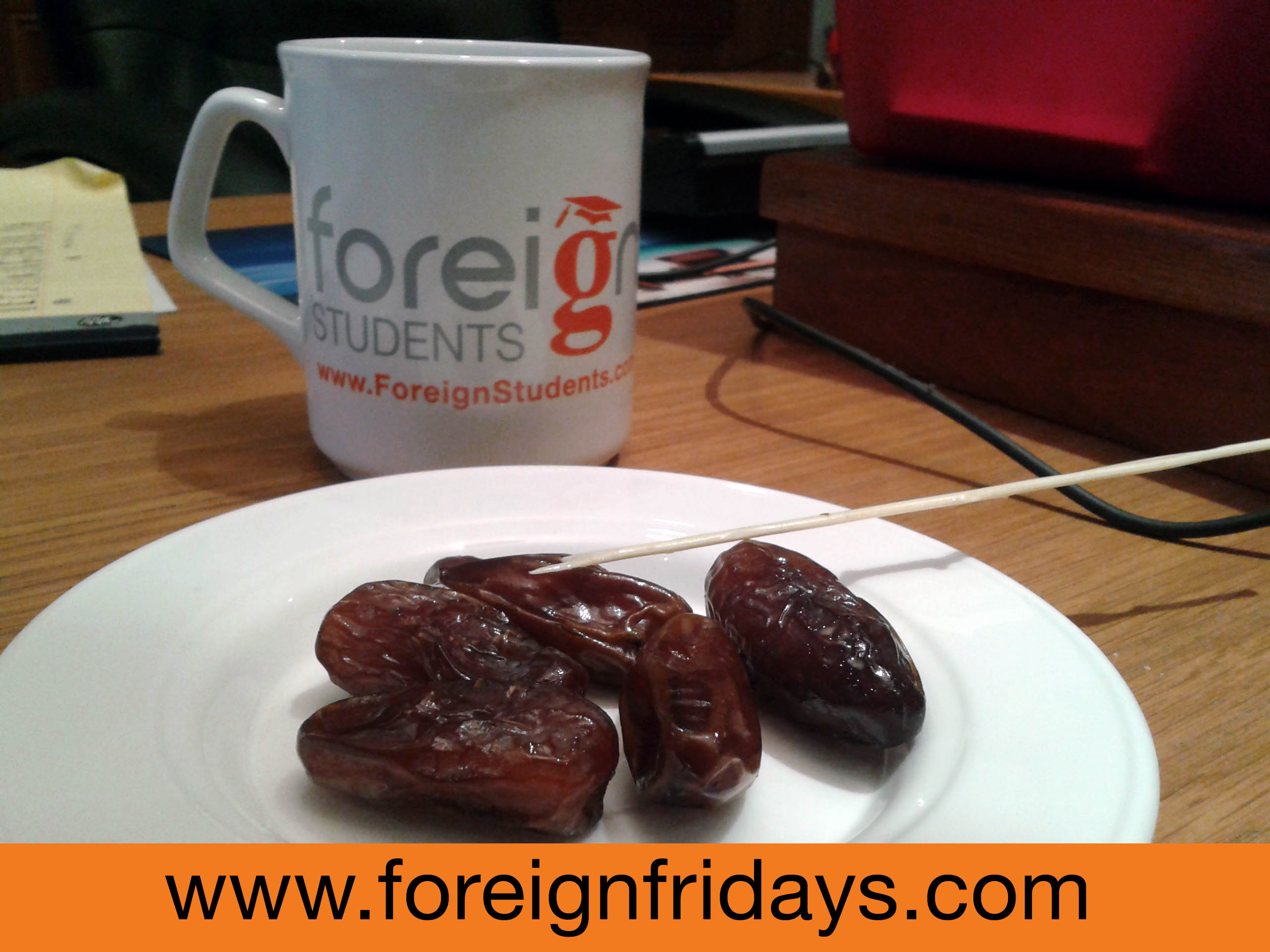 As well as being something we look forward to at the weekend, dates are also an item of food commonly consumed in countries with a dry climate. This Friday we are tasting dates of the Algerian variety, they are chewy, slightly nutty and go down well with a spot of tea (preferably chia).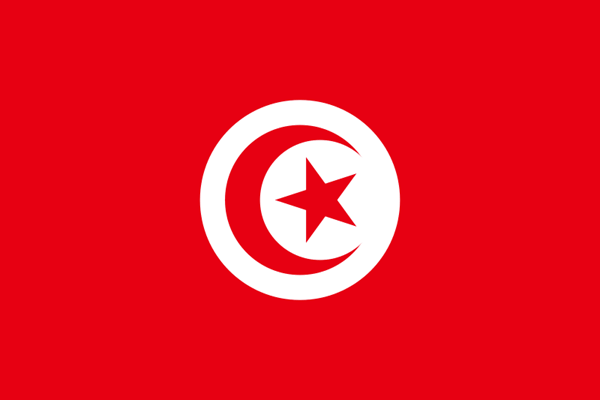 Friday 25th November 2011: Tunisa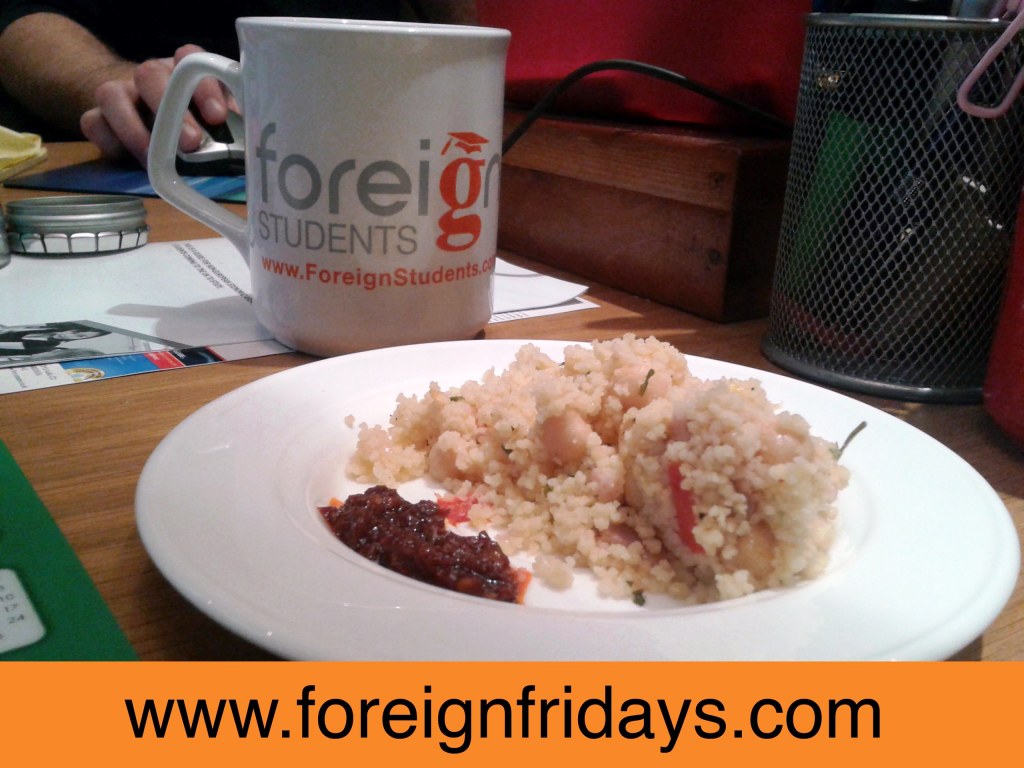 The ingredients in Harissa just seem to be different types of chili: piri piri peppers, serrano peppers, hot chili peppers... So we were understandably a little hesitant when we first tried it. And yes, we can confirm, it is preeetttyyy fiery. However, this Tunisian paste is also delicious. We had ours with couscous, but in North Africa they use it in everything from soups to meat marinades, and dips to sauces. Even after one taste, we can see why.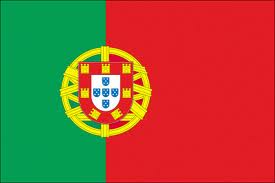 Friday 18th November 2011: Portugal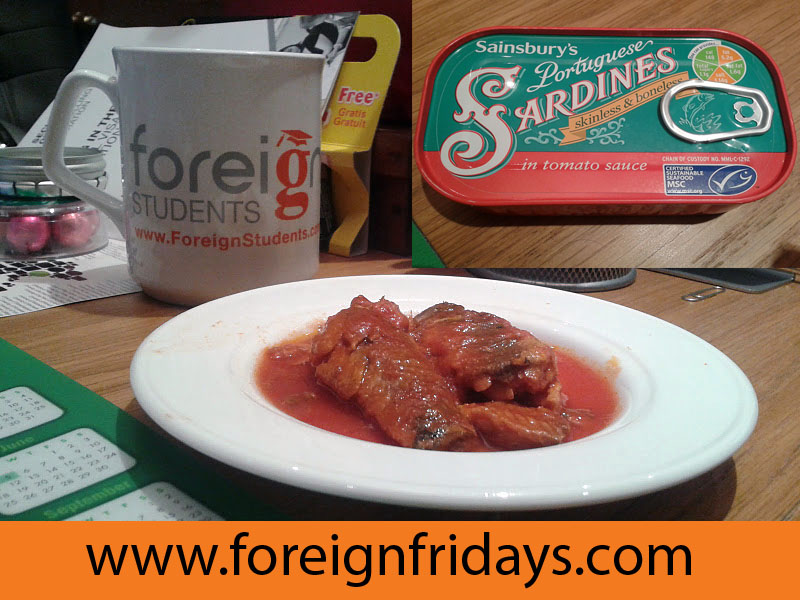 The Portuguese are large exporters of fish, seafood also forms a big part of their diet, therefore it is fitting that we have Sardines from Portugal as part of #foreignfridays today. Normally, the small fish are grilled and served fresh as a snack at festivals, we had to make do with the tinned variety in tomato sauce, nonetheless, it was still a pleasant treat!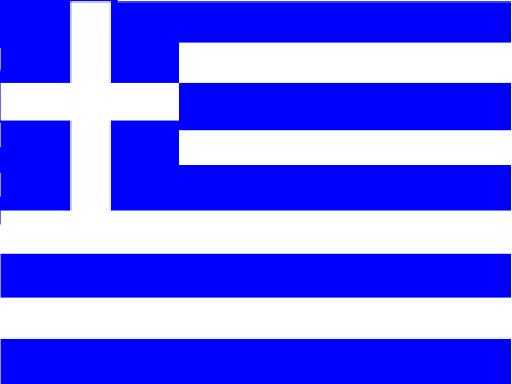 Friday 11th November 2011: Greece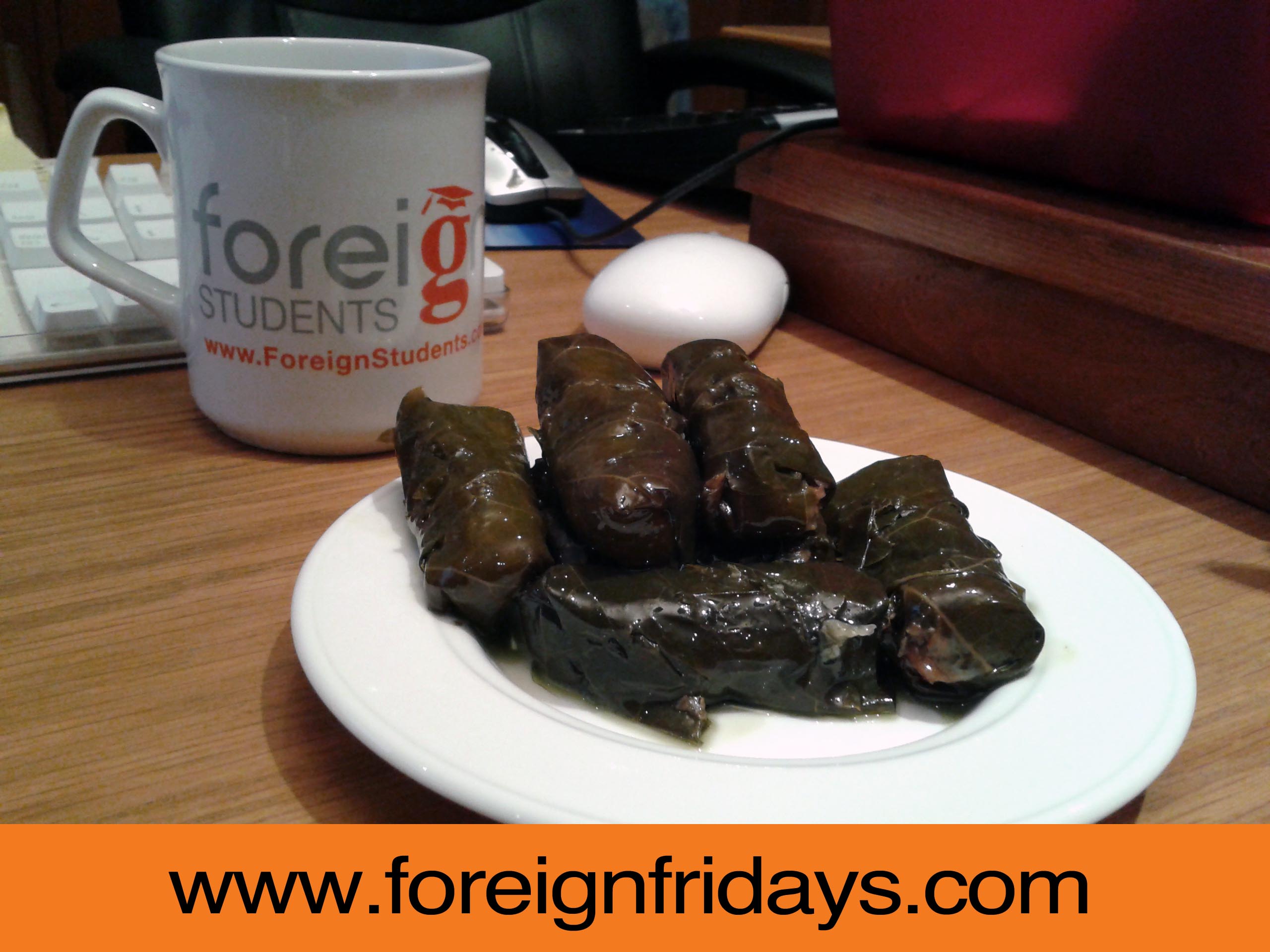 In the Mediterranean and Middle East many cultures enjoy Dolma as a light yet substantial appetiser, today we've gone for the charming Greek variety known locally as Dolmades. The dish consists of vine leaves stuffed with different fillings, our selection for Foreign Fridays contains rice, onion, mint and dill covered in olive oil.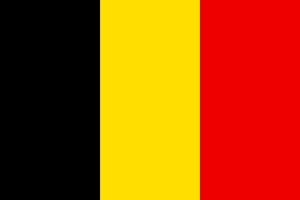 Friday 4th November 2011: Belgium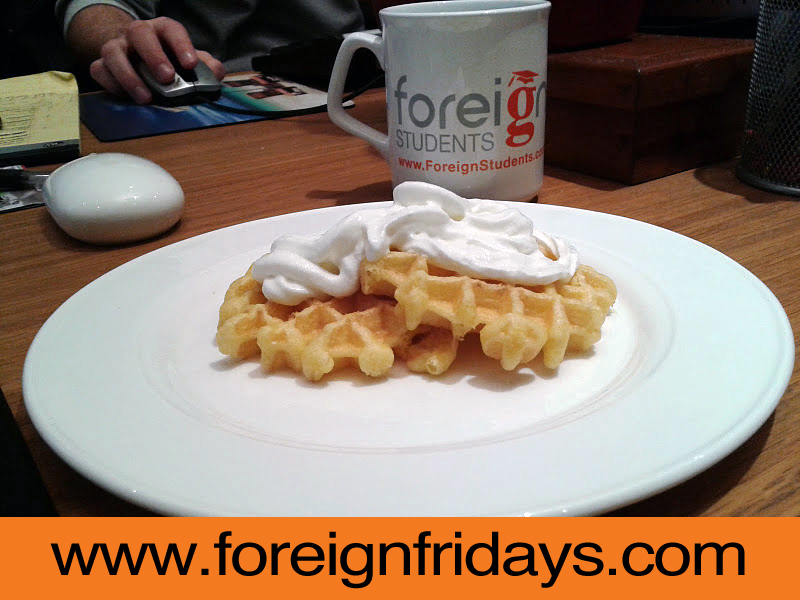 Countries from all over the world enjoy waffles, but none are more closely associated with them than Belgium. Known for their distinctive deep criss-cross pattern, the pockets that are created are perfect for lapping up cream. Rich and delicious they make the perfect Friday morning snack to go with our coffee.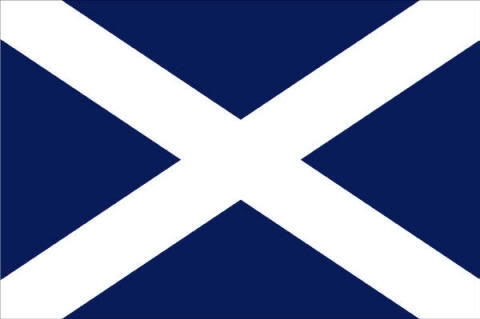 Friday 28th October 2011: Scotland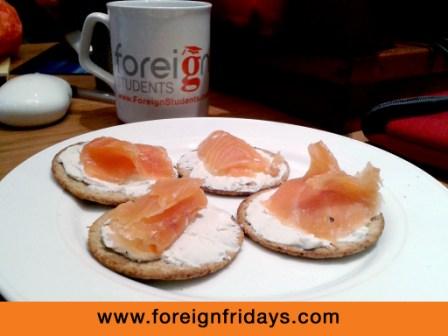 It is Scotland Week here at ForeignStudents, so there really was no option when it came to Foreign Fridays. So this morning we popped on a flight to Edinburgh, got a bus to the far north of Scotland, found ourselves a loch and got fishing. Fortunately we soon caught a salmon, which we then put in a smoking house for a couple of hours. And voila, we had Scottish smoked salmon to go with our Scottish oat cakes. (NB Some of that story may not be quite true).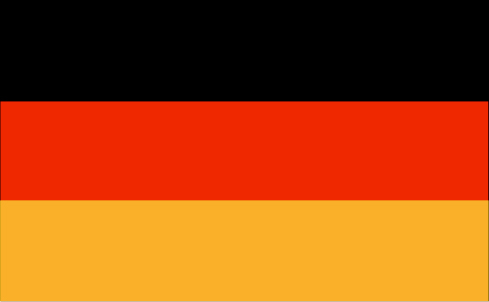 Friday 21st October 2011: Germany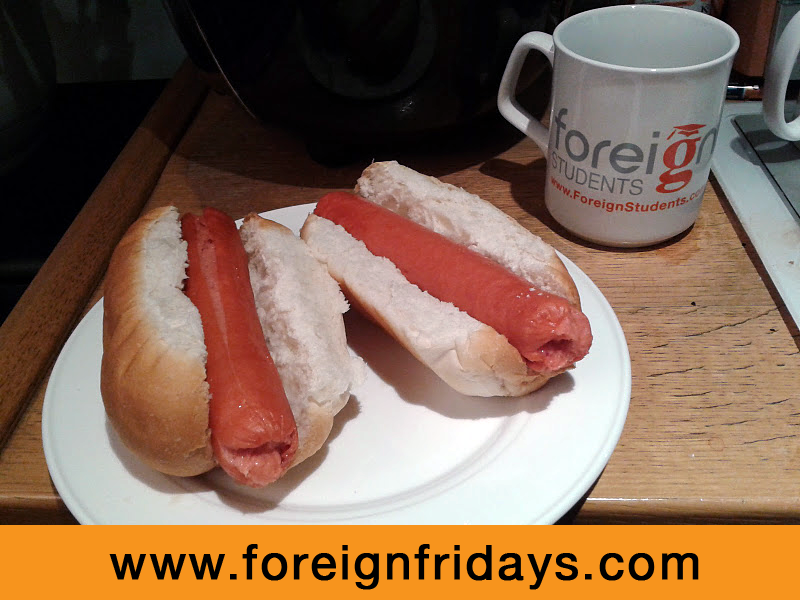 Frankfurters aren't like normal sausages. For starters you can boil them. Next up they don't seem to be made of normal meat. However, despite this they are delicious. The smoky taste and chewy texture are a match made in heaven when eaten in a bread roll. And what better food to have representing Germany for this week's Foreign Fridays than a dish named after a German town?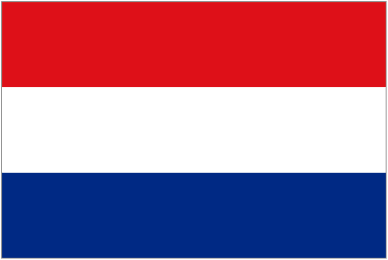 Friday 14th October 2011: The Netherlands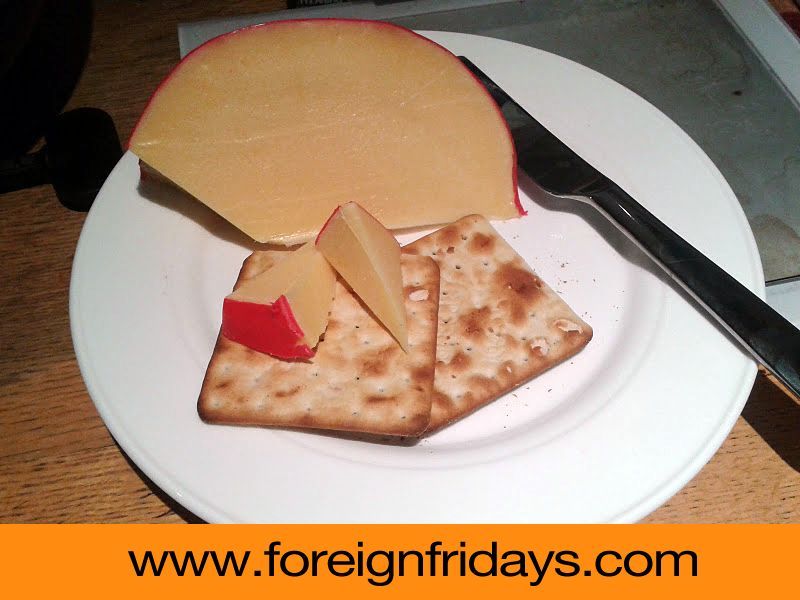 The Netherlands is stereotypically famous for clogs, windmills and tulips, though unfortunately you can't eat any of these. One Dutch thing you can eat though is Edam cheese. Famous for its waxy red skin, the chewy, nutty cheese is perfect with bread, fruit or, as we have chosen, crackers. And did you know that because Edam doesn't go off easily, it was the world's most popular cheese between the 14th and 18th centuries (thank-you Wikipedia).

Friday 7th October 2011: Russia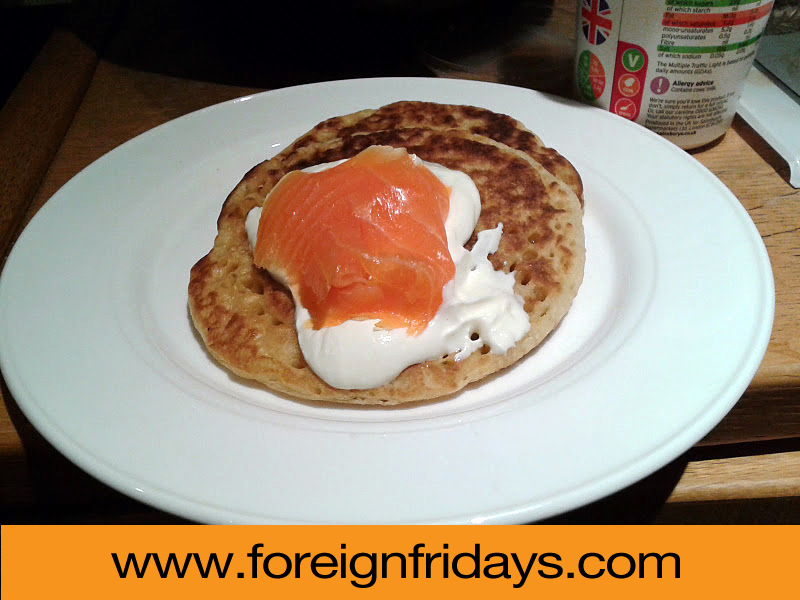 Today's culinary trip has taken us to the world's largest country- Russia. When you think of Russian cuisine, you think of caviar and vodka. However, that would have been far too obvious a Foreign Fridays choice for us food pioneers (also quite expensive/alcoholic). Therefore, we have gone with blini with soured cream and smoked salmon. Popular throughout most of Eastern Europe, these little pancakes are great with almost anything on top, and are perfect little snacks.

Friday 30th September 2011: Sweden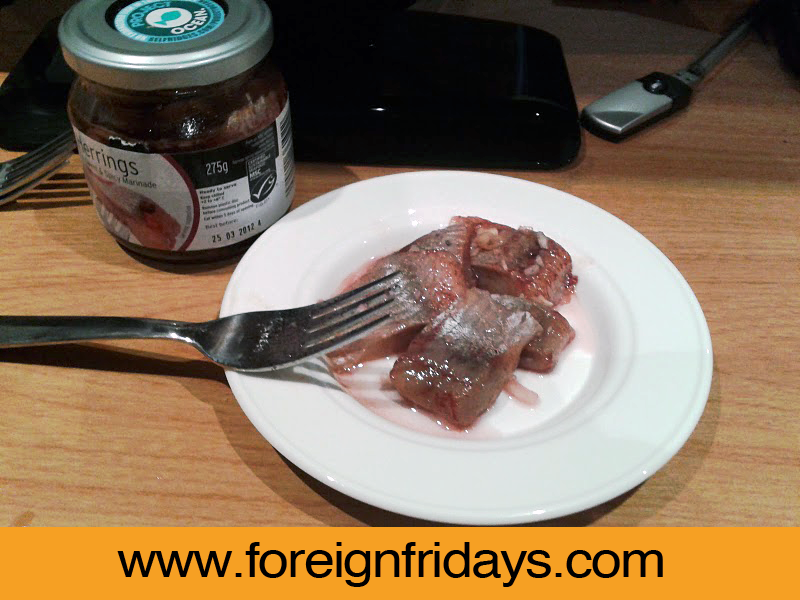 Scandinavian food is always slightly more unusual than other nations' dishes (as we found out with Finland in June), and our choice for Sweden is no different. Indeed, this week, we have gone for Swedish herring in a sweet and spicy marinade. The strong fishy flavour mixed with the oily marinade was certainly a 'unique' flavour, but, you know what, we liked it! It's not often you eat something that tastes nothing like anything else and it is a refreshing surprise when you do.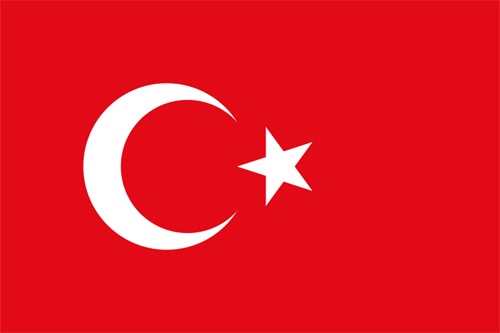 Friday 23rd September 2011: Turkey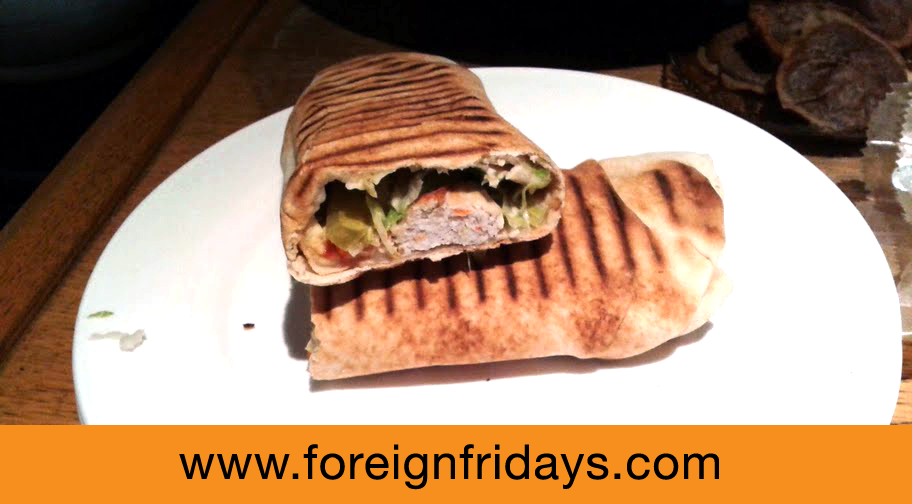 Turkish food is very popular in Britain. Unfortunately, it is best known for the greasy kebab meat and chips that is eaten as a late night snack by thousands of Brits every weekend. However, we wanted a more authentic Turkish experience for Foreign Fridays this week, and so we got a chicken wrap. The crispy toasted wrap with spicy chicken and crunchy lettuce all worked brilliantly together, and not a drop of grease in sight! Lovely.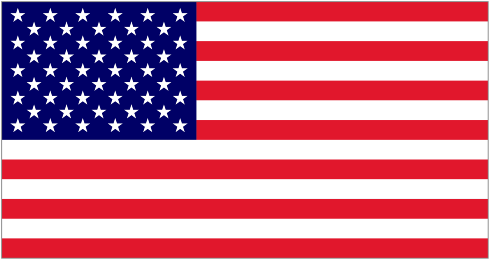 Friday 16th September 2011: USA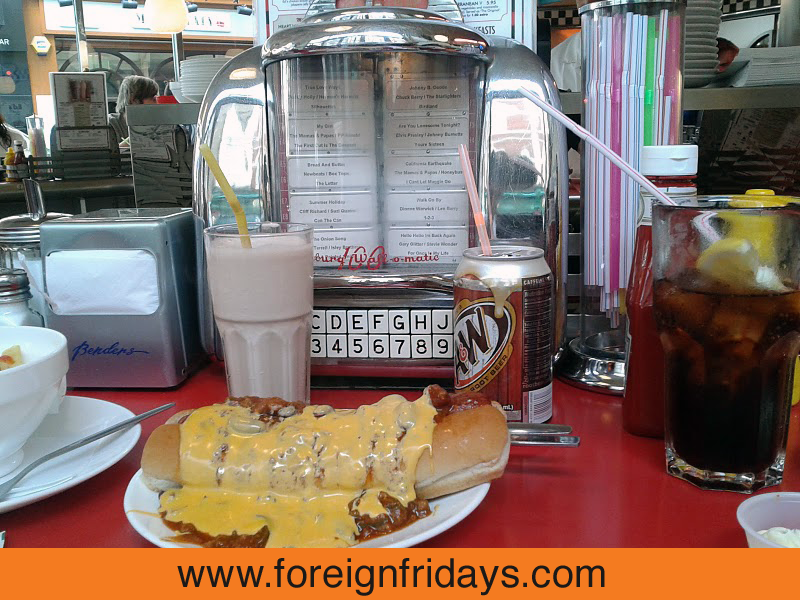 Picture this. You're sat on a high stall at a counter with a juke box playing '50's American classics in the background. As you tuck in to your chili dog (above), a waitress comes round and tops up your milkshake. Sounds like a typical American diner right? Well yes, but in London. You see, for Foreign Fridays this week we went to Ed's Diner in Soho for an authentic U.S. experience. With milkshakes so thick straws are almost pointless, and chili hotdogs so good that you believe you are at a baseball game, we definitely got our fill of U.S. food.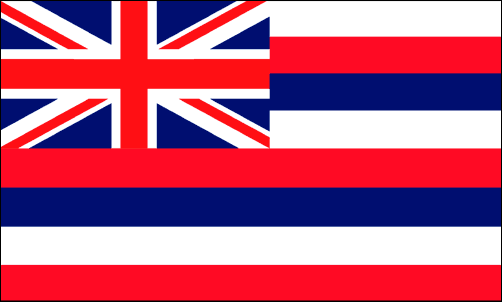 Friday 9th September 2011: Hawaii (USA)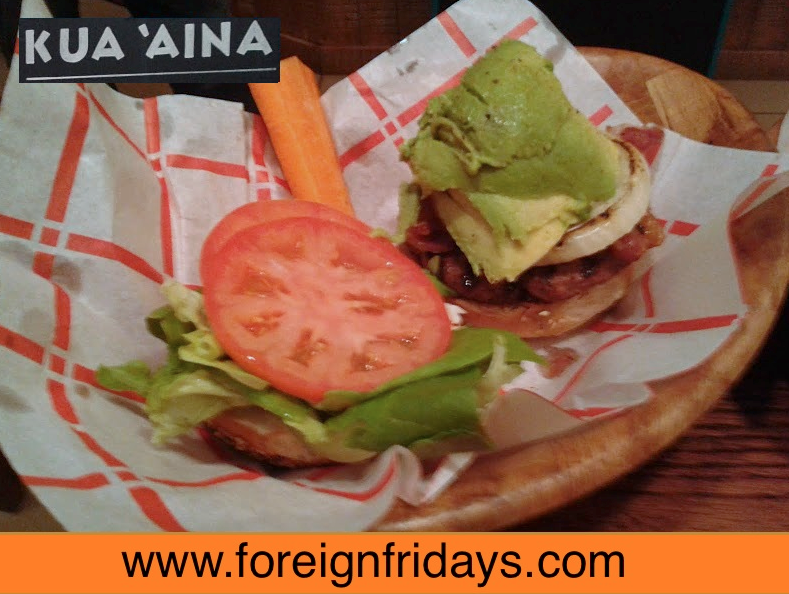 For Foreign Fridays this week, we have gone to Hawaii! Unfortunately, the budget wouldn't stretch to an office trip to the paradise island, but we did do the next best thing. We visited the Hawaiian restaurant Kua 'Aina just off Carnaby Street and got the mother of all burgers. Above you can see the glorious sandwich which contained (take a deep breath): a beef burger, bacon, avocado, lettuce, tomato, mayonnaise and grilled onion, all between two golden buns. It was one of those burgers that is so BIG that you have to eat it one side at a time- just the way we like it. Next time you're in the area, definitely pop in to Kua 'Aina for a deliciously filling burger or grilled sandwich with a side of sweet potato fries. You can also follow them on Twitter @KuaAinaUK.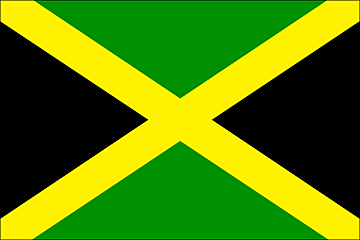 Friday 2nd September 2011: Jamaica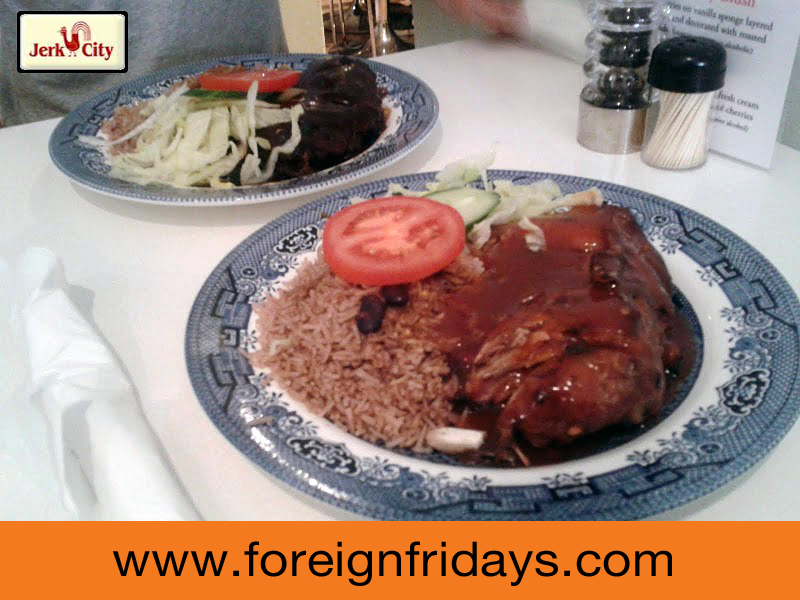 It's a lovely sunny day in London today so we thought for Foreign Fridays we should have some food that matched the weather. So, we went for Jamaican jerk chicken and BBQ chicken with rice and peas. The sticky, spicy, smoky chicken was perfect with the rice and beans, giving us a little slice (actually quite a big slice) of the Caribbean. We got the food from the lovely people at Jerk City on Wardour Street, just off Oxford Street. Make sure you pop in there next time you're in the area looking for a seriously good lunch, and give them a follow on Twitter @jerkcityw1.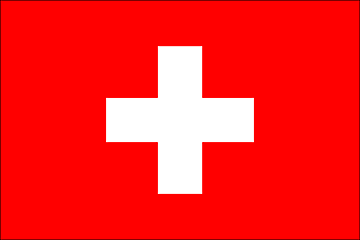 Friday 26th August 2011: Switzerland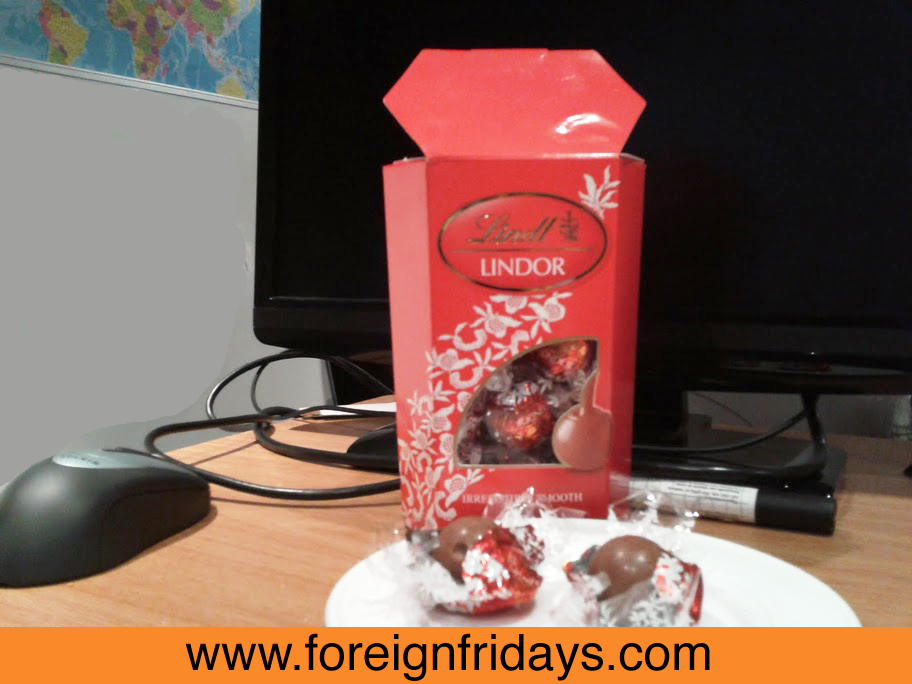 Cuckoo clocks, Swiss Army Knives, Swiss Guard...and chocolate. These are the things everyone most associates with Switzerland, so it made perfect sense to choose Swiss chocolate for Foreign Fridays this week (we heard cuckoo clocks aren't that tasty). We thought about having a chocolate (or cheese) fondue, but it would have been weeks before the keyboards in the office stopped sticking. Still, creamy Lindor chocolates will do us just fine.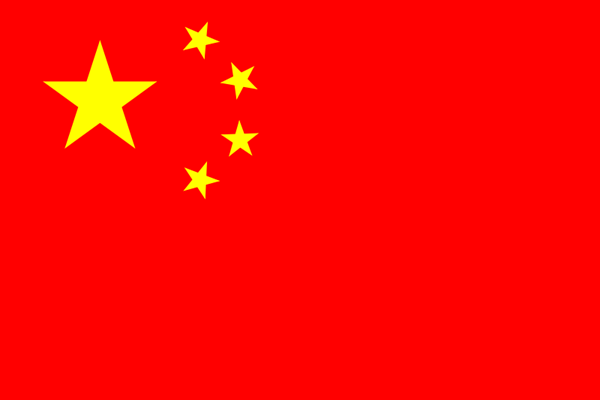 Friday 19th August 2011: China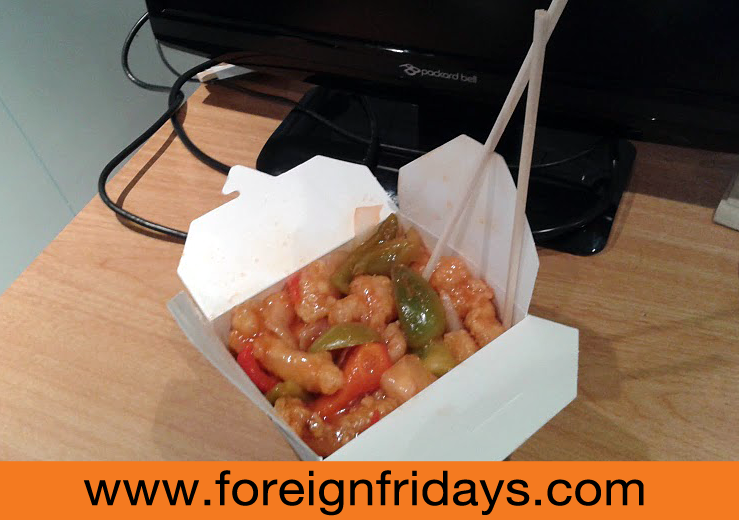 Looking back at all the Foreign Fridays we have done, we couldn't believe that in four months and 16 different countries, we have not yet got Chinese food. So, to rectify that, we have been feasting on sweet and sour chicken today, which you can see above. Chinese is one of the most popular types of food in the UK and though the food served at some takeaway restaurants would make a true Chinese chef cry, this dish was beautiful.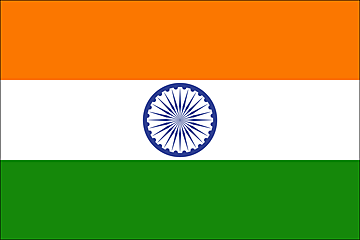 Friday 12th August 2011: India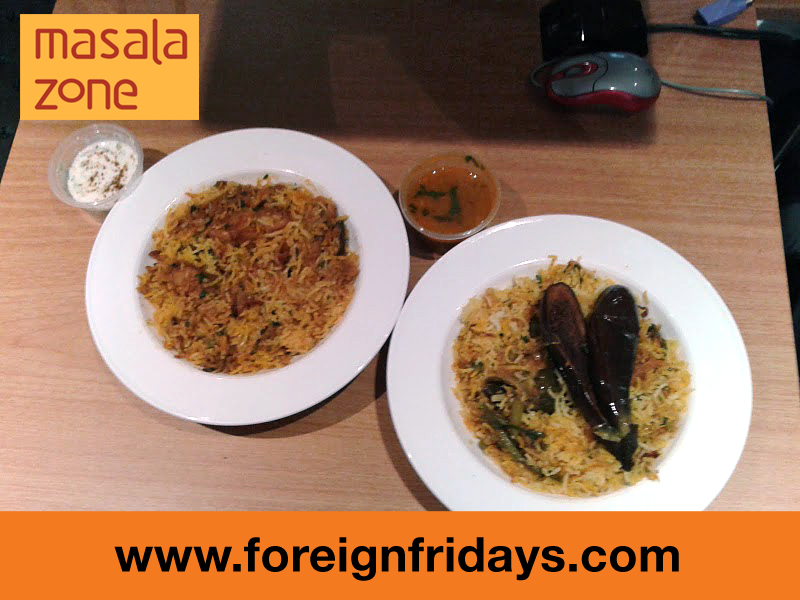 We have gone from England to India on our culinary journey this week as a tribute to the cricket Test match that the two nations are currently playing. One thing we can say is that India's food is certainly better than the way their cricket team is playing! Above, you can see the chicken and vegetable biryanis that we have been enjoying. The spicy, sticky curry was from the lovely people at Masala Zone- an authentic Indian chain of restaurants throughout London. What's more, with our Foreign Students discount, you can get 10% off the bill at Masala Zone simply by showing your student ID!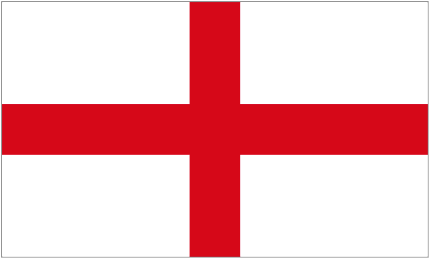 Friday 5th August 2011: England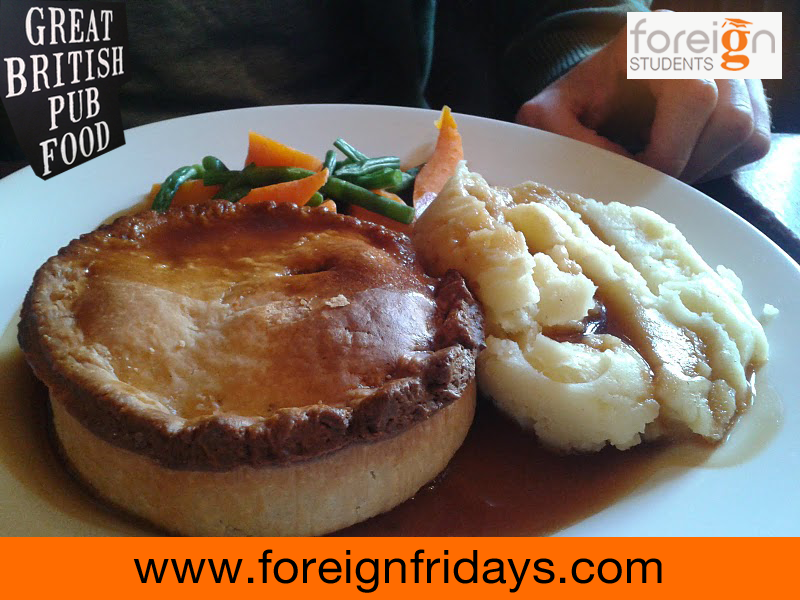 It has been a beautiful sunny week (mostly) in London, so we thought what better way to celebrate the British summer finally arriving than by having some good old fashioned English pub food. Above you can see London's finest- pie, mash and gravy. This particular pie is lamb and mint and was deliciously lamby and minty (and very filling!). We got it from a nearby Taylor Walker pub, which does great British pub food and drink, as proven by the left hand corner of the picture.

Friday 29th July 2011: Ireland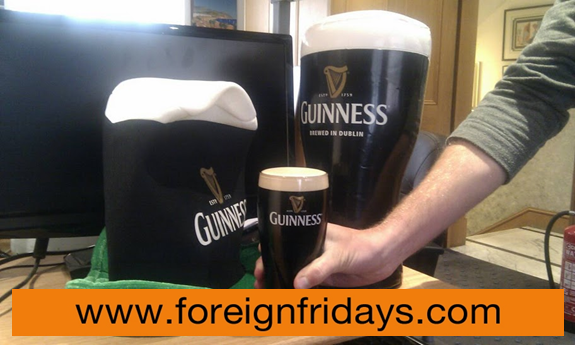 It's Ireland this week, and although Guinness isn't (technically) a food, there is nothing else that even comes to close to being more typically Irish. So, we popped over to the pub next door and got a mid-morning pint. They even threw in a hat and a big blow up pint for us! If you haven't tried a Guinness yet, it is a unique experience that you should definitely try whilst you are in the UK.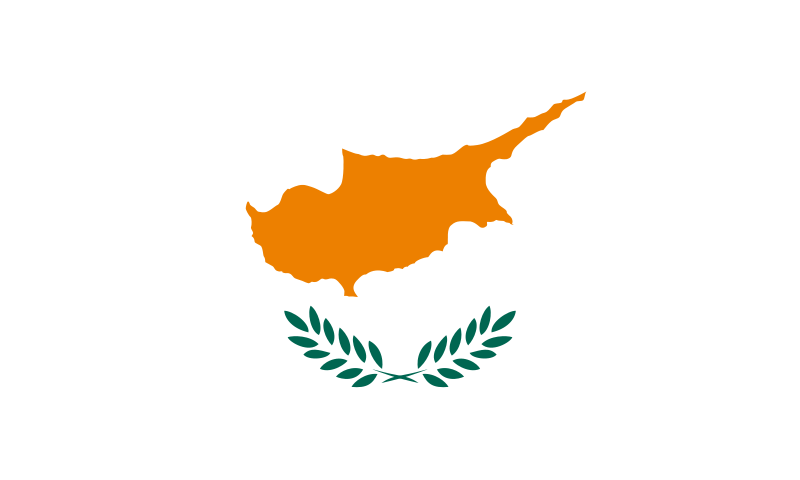 Friday 22nd July 2011: Cyprus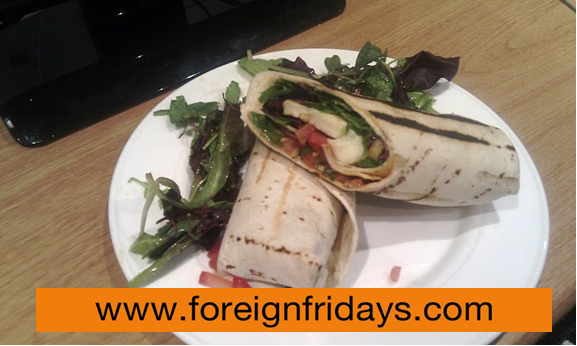 This week we have decided to have everyone's favourite squeaky cheese- halloumi. Traditionally from Cyprus, this rubbery cheese is popular throughout the Middle East, though how to make it is a topic of hot debate. Historically it has always been made with just goat's and sheep milk, but more recently cow's milk is also often added. However, we reckon it is nice whatever, especially on a barbeque, or in a wrap like we had it (above).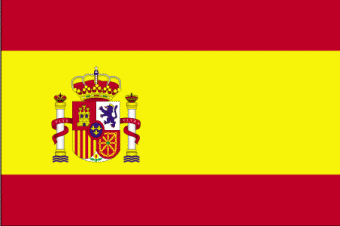 Friday 15th July 2011: Spain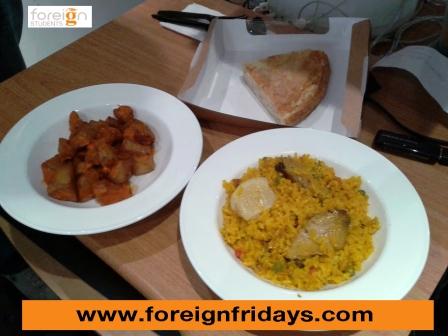 We've made the short trip from France to Spain this week, and have a feast of all things Spanish. We have been gorging ourselves on paella, bravas potatoes and tortilla (potato omelette). With all the colours of the Spanish flag, the simple, tasty food was perfect on such a sunny day in London (for once), and also helped to finally get rid of the smell of the French cheese from last week!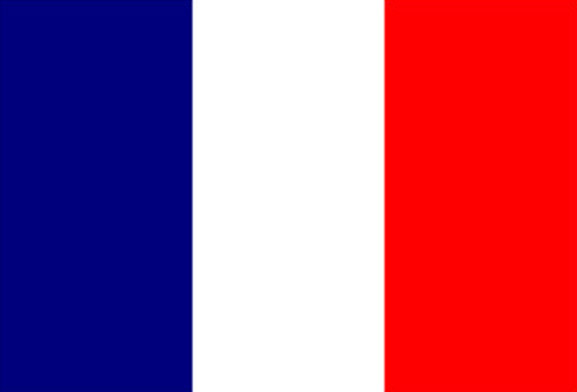 Friday 8th July 2011: France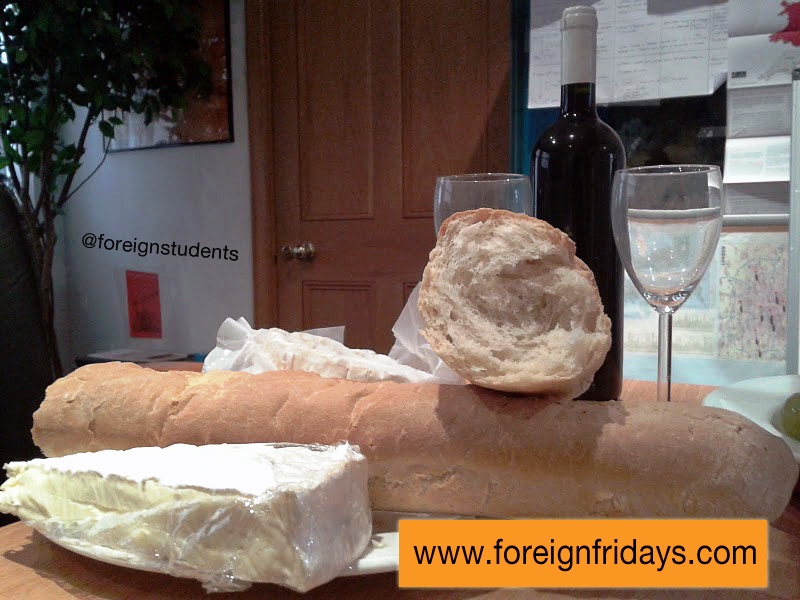 France is famous for its food and we certainly had plenty of choice when deciding what to have for Foreign Fridays this week. In the end we went for the most quintessentially French food we could think of- a baguette and some Brie and Camembert. There is no better lunch in our opinion (though it's going to be a while before the office stops smelling like a French cheesemaker's shop...).
Friday 1st July 2011: Italy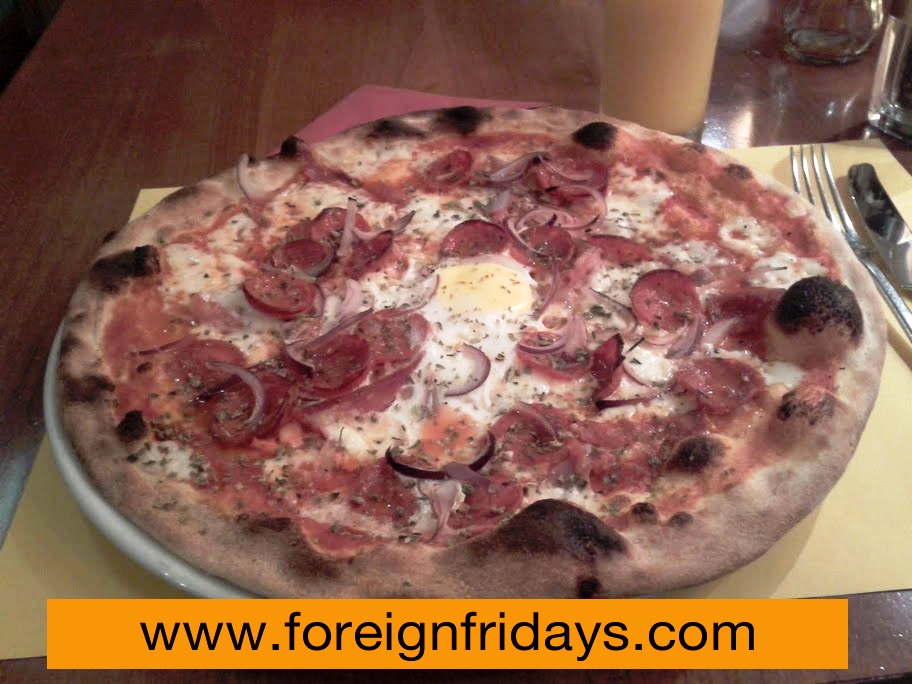 After last weeks little foray into English food, we are back on the international scene with a bang. Above, as I think you can all guess, is a pizza. Authentically Italian, this fine specimen of a pizza has on it tomato, mozzarella, pancetta, spicy salami and red onion, all topped off with a egg. Although not very exotic, we felt we couldn't do Italy and not have pizza, it would just feel wrong (plus we all love it...)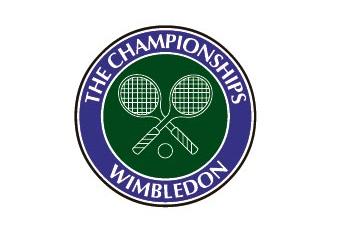 Friday 24th June 2011: Wimbledon Special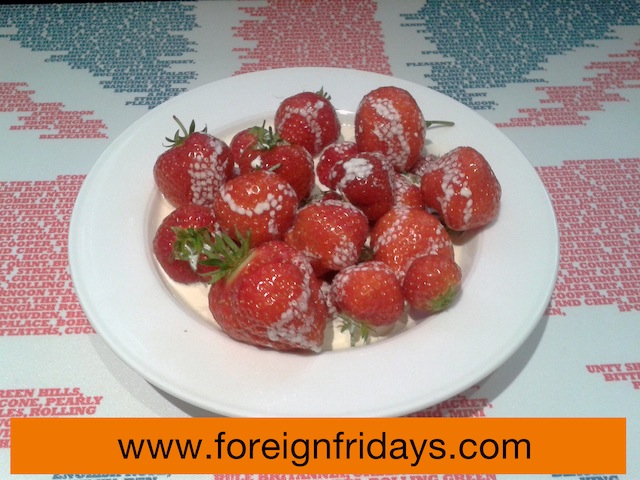 As well as being connoisseurs of foreign food, every now and again we celebrate the best of British when there is a special event on. Wimbledon is the most quintessentially English tournament there is, and nothing sums it up better than Strawberries and Cream. We're watching the matches at the office and are cheering Britain on. Did you know that strawberries are a variety of the rose family called Fragaria? We didn't, it's amazing what you can learn on Foreign Fridays.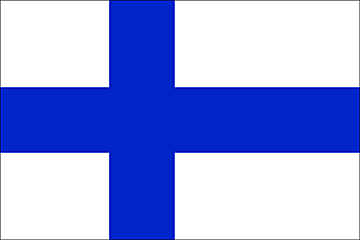 Friday 17th June 2011: Finland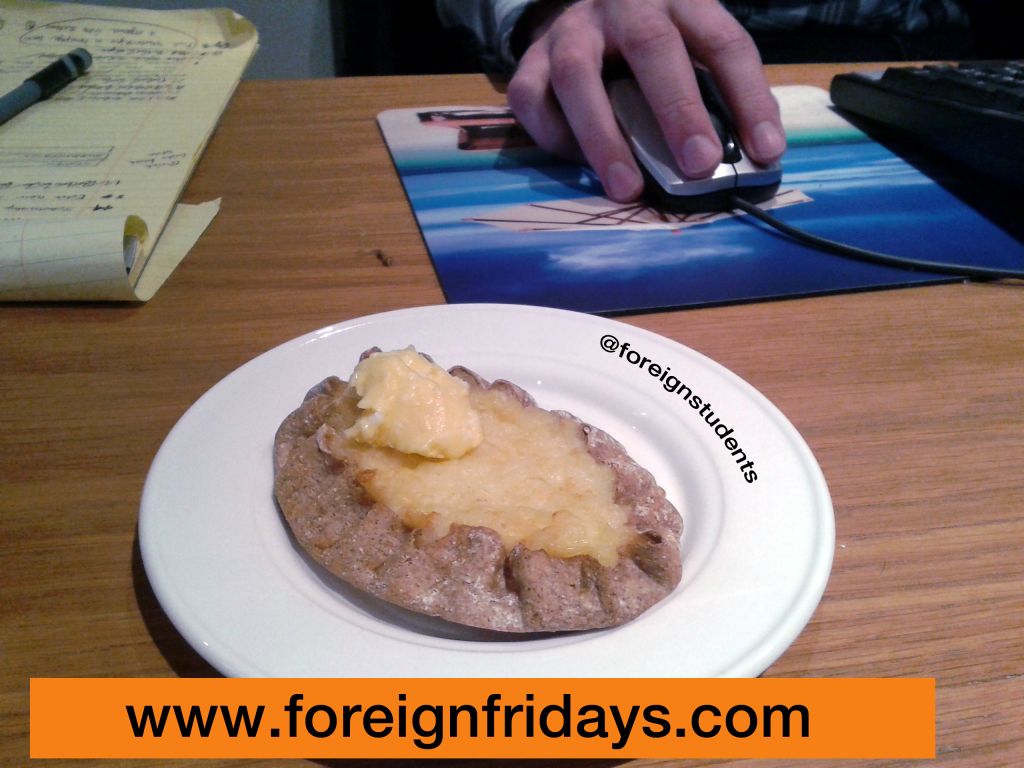 Over the last few weeks we've felt that we have been neglecting Europe a little with our choices. So, today we have gone for a Finnish delicacy- Karelian Pie, for this week's Foreign Friday. Traditionally made with a rye crust and filled with rice or barley, the savoury pie is then covered in butter mixed with boiled egg. It is an absolutely unique flavour, that we've certainly never tried before, but certainly delicious. If you fancy trying some, pop over to the very cool Nordic Bakery in either Soho or Marylebone.
Friday 10th June 2011: Morocco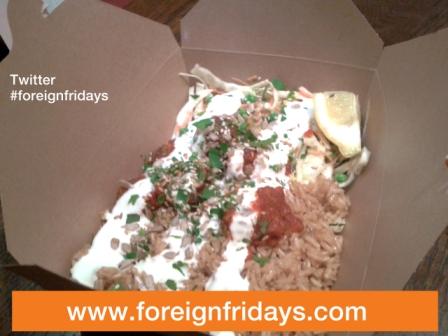 This week it is Moroccan Meatballs that are satisfying our unquenchable weekly desire for foreign food. Lamb and beef meatballs. Tomato sauce. Aioli and shredded veg. All mixed perfectly with rice. What more could you want on a Foreign Friday? We popped over to Carnaby Street this week, to get our food from the Leon restaurant with its natural, healthy fast food.

Friday 3rd June 2011: Thailand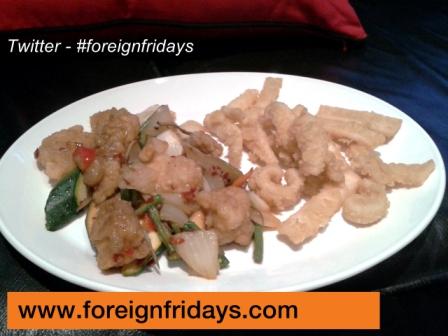 Friday is quickly turning into our favourite day thanks to Foreign Fridays, and this week is a perfect example why. This morning we have been enjoying a feast of Thai food, from Pad Thai and green curry, to spicy fish and deep fried squid (as shown above). The spiciness, sweetness, chewiness and crunchiness all create great food. Thanks must go to Thai food specialists at Thai West on Brewer Street (just off Regent Street).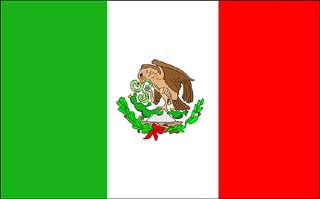 Friday 27th May 2011: Mexico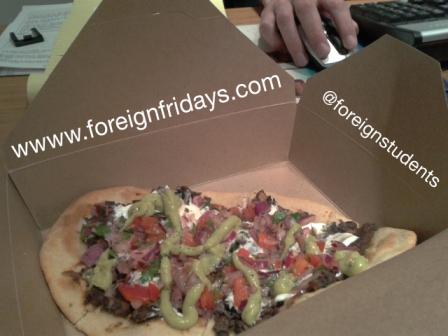 And so we reach another Foreign Friday, and this week it is Mexico's time to step forward. What you can see above is a Mighty Mexican flatbread topped with heaps of black beans, guacamole and salsa. The flavours and textures combined perfectly to make a snack as delicious as it is colourful. We got it from the lovely people at Flatplanet, who do all sorts of flatbreads from their restaurant just off Carnaby Street in London.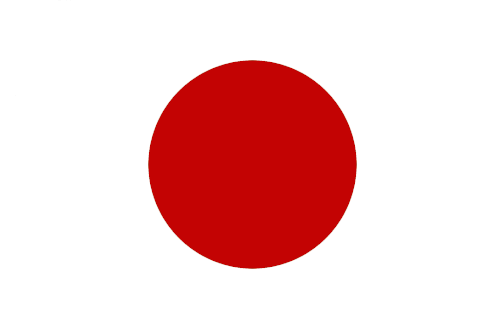 Friday 20th May 2011: Japan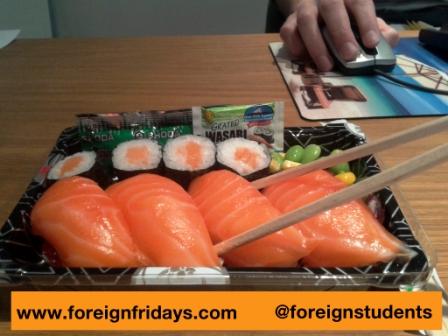 Although sushi is farily common in Britain these days, it is still the dish you first think of in relation to Japanese food. What's more, two of us in the office had never tried it before, which makes it the perfect food for this week's Foreign Friday. The fresh fish and sticky rice has certainly converted me to the delights of sushi. We got it from our local takeaway restaurant - Papaya- which also does authentic thai curries.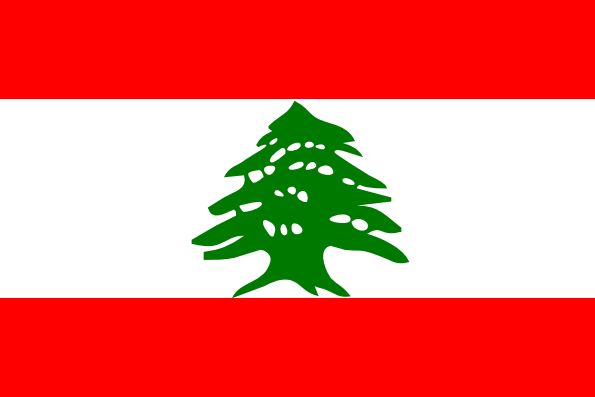 Friday 13th May 2011: Lebanon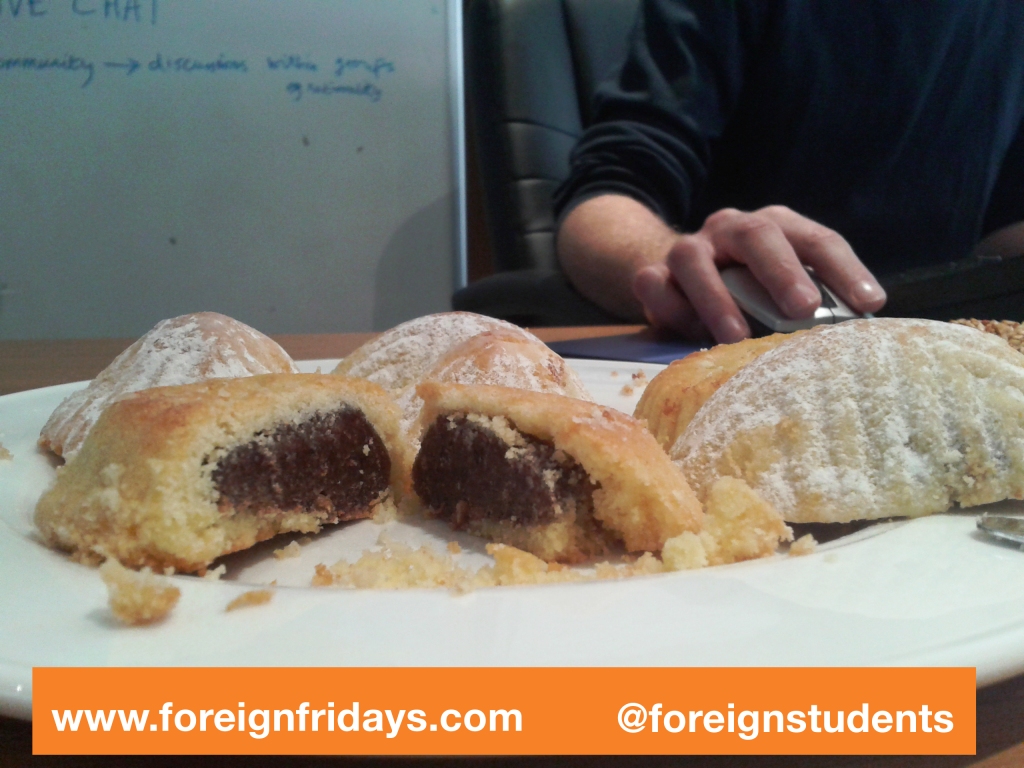 We have made the short hop from Israel to Lebanon this week, and are tucking in to Ma'amoul. Made from shortbread pastry and filled with dates, pistachios or walnuts, they are a delicacy not just in Lebanon but a number of surrounding countries too. In three words: crumbly, filling and delicious.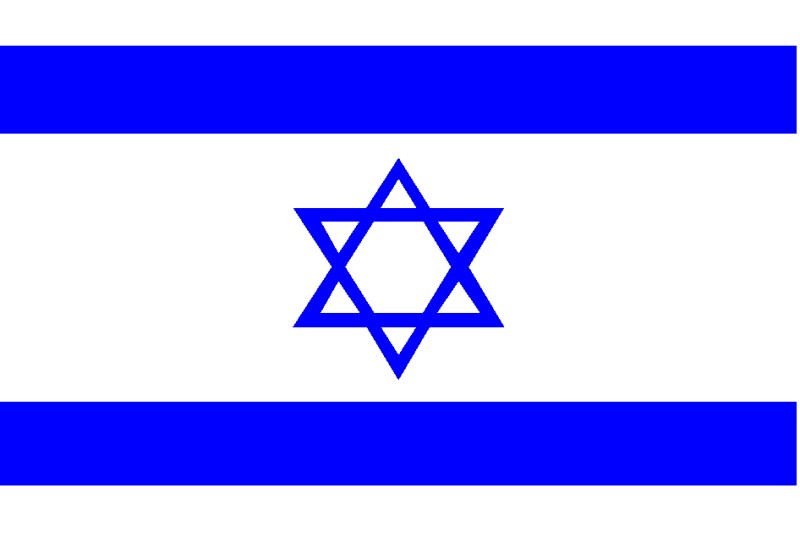 Friday 6th May 2011: Israel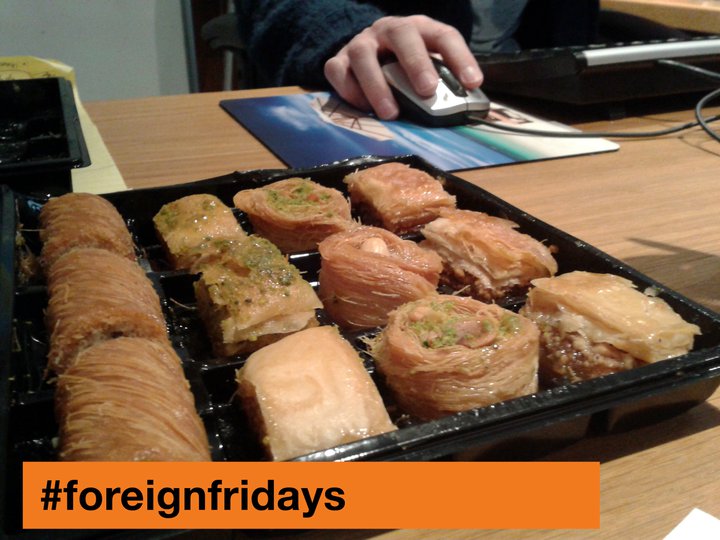 It is Baklava for this week's Foreign Friday after David (the office boss!) brought some back from Israel. They are small sweet pastries made with filo pastry, honey and nuts, and they are perfect with tea or coffee! They are very rich but impossibly tempting when just sitting in front of you.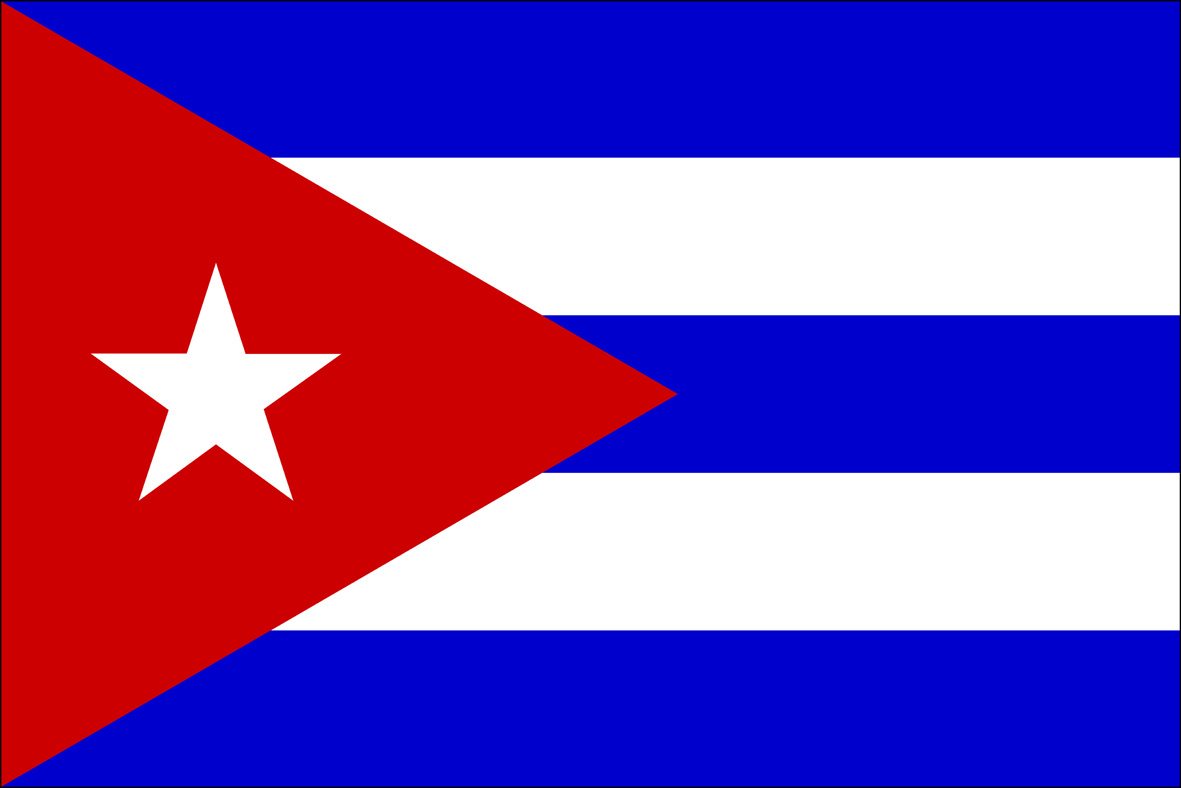 Friday 15th April 2011: Cuba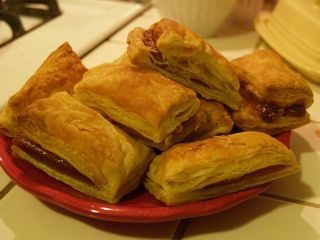 Pastelitos are a Cuban pastry which can be filled with a whole range of things both sweet and savory. The ones we had were kindly provided for us by Maria in the office who had recently come back from visiting Miami which has a massive Cuban population. We tried coconut and guava jam fillings and both were delicious. However, the subject of fillings started quite the debate on Facebook, as you can see here.