UK Sport

Quick Links: Football | Cricket | Tennis | Rugby | Olympics | Golf | Boxing | Darts | Snooker
British Sport
Sport is a huge part of life in the UK, and it is hard to avoid if you are studying here. The best thing to do is to embrace it! It is so easy to get involved, whether through watching and supporting a sport, or playing it. Every week thousands of people across Britain participate in a wide variety of sports, playing at all levels or supporting their local team.
Don't worry if you don't know the difference between a googly and bullseye, or an ace and a try, we have put together a Guide to British Sport. We have information on all the most popular sports in the UK, with the most well known team or player, the most famous stadiums or arenas, the biggest rivalries and a technical term to impress your friends with, for each sport.
Football
---
Football is by far the most popular sport in the UK and every weekend hundreds of thousands of people go to watch their team play, or else pull on some boots of their own to play for their local team. Although it is called soccer in other parts of the world, we would advise you to always call it football whilst you are in the UK (you don't want to anger the locals eh?).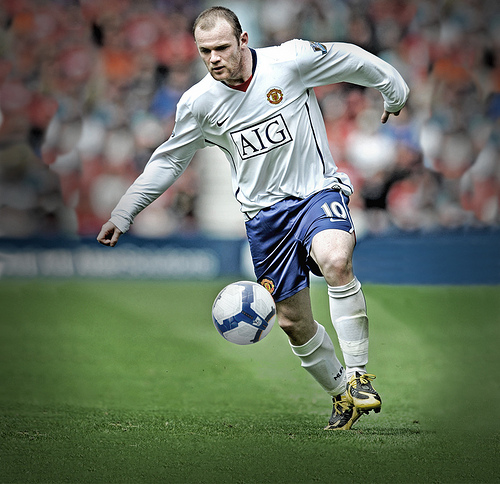 Technical term: Offside- a rule in football that is far too complicated to explain here. Best just to shout "'He's offside!"
Best known British team: Manchester United, Manchester- probably the most famous football team in the world. On the right you can see Wayne Rooney playing for them.

Most famous location: Wembley Stadium, London- the England national stadium and one of the most famous football grounds in the world.
England's biggest rivals: Germany- built after a number of famous World Cup meetings between the two teams.
Cricket
---
Cricket is a sport that still confuses many of the British, let alone people from abroad. The basic idea is simple. One player 'bowls' a ball at some wooden 'stumps', whilst another player has to try and hit the ball with a bat without being caught by the bowler's team mates. However, there are so many rules within this, and so much technical language that the sport remains a mystery to many. That shouldn't put you off giving it a go though, as once you start to understand it, cricket is a great sport to watch and play.
Technical term: LBW (Leg Before Wicket)- a term for when a batsman blocks the ball from hitting the stumps with his leg.
Best known British player: Kevin Pietersen- England's star batsman who is never afraid to be outspoken.
Most famous location: Lords, London- one of the oldest and most well known cricket grounds in the world and known as 'the home of cricket'.
England's biggest rivals: Australia- every 2 years England and Australia play a series of games against each other called 'The Ashes'. The result is one of the oldest and most famous friendly (usually) rivalries in cricket.
Tennis
---
Tennis is a hugely popular sport in the UK and almost every town and village has its own tennis courts you can play on. Whilst Britain hasn't had too much to celebrate at world level in the past few decades, playing tennis is still just as popular with the British public.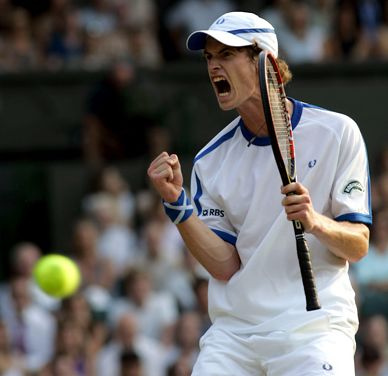 Technical term: Ace- when a player serves and the other player can't even touch the ball.
Best known British player: Andy Murray- pretty much the only decent British player there is at the moment.
Most famous location: All England Club, Wimbledon- where the oldest and most prestigious tennis tournament in the world is held each summer.
Britain's biggest rivals: Roger Federer and Rafa Nadal- Murray's two biggest rivals for the world number 1 spot.
Rugby
---
Rugby is played between teams of players who each have to try and run the ball over their 'try' line on a grass pitch. It's a hugely physical game, so maybe try watching it before you decide to start playing it with no experience. There are two variations of it- Rugby League and Rugby Union. They have a number of different rules to each other, but both are very popular in the UK.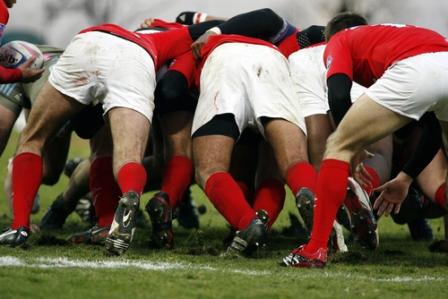 Technical term: Scrum (right)- when a match has to be stopped for certain reasons, the two teams line up against each other and try and push each other backwards whilst the ball is in between them. This is called a scrum.
Best known British team: Leicester Tigers, Leicester- they have won the record number of Premiership championships and are current champions.
Most famous location: Twickenham Stadium, London- the England national stadium and the fourth biggest in Europe.

England's biggest rivals: Scotland, Ireland and Wales- there is a strong rivalry between the four 'Home Nations' who all play against each other every year.
Athletics/Olympics
---
General athletics and Olympic sports are practiced by thousands of people in the UK. Every day up and down the country people go swimming, cycling and running to keep fit and enjoy themselves. However, Britain is also very proud of its competitive achievements, and it is of course hosting the 2012 Olympics. This has led to a huge surge in the popularity of Olympic sports and the funding has increased. Why not give one of the sports a go? They are easy, fun and great fro keeping fit.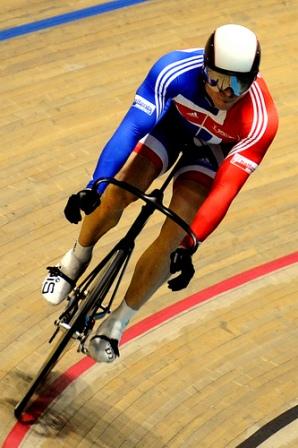 Technical term: Butterfly- a type of swimming stroke, where you move both arms round at the same time.
Best known British athletes: There are so many to choose from, but a few that stand out are Scottish cyclist Chris Hoy (left), double gold winning swimmer Rebecca Adlington, and 16 year old diver Tom Daley.
Most famous location: The Olympic Park, London- currently being built, this will be the centre for the 2012 Olympics with loads of amazing venues.

Britain's biggest rivals: Australia- recently a friendly rivalry has developed as Great Britain and Australia are usually very close in the Olympic medals tables.
Golf
---
There are golf courses all over the UK, and the sport is massively popular with the British people. You can give it a go whatever your age, sex or sporting ability, as it isn't as physically demanding as some sports. It is however very technically difficult and is certainly a sport where practice makes perfect (or at least a bit better).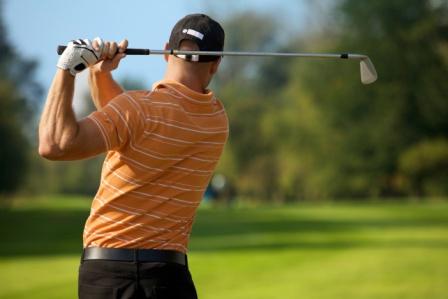 Technical term: Birdie- when you putt the ball in one shot less than the expected 'par' score for the hole.
Best known British player: Colin Montgomerie- a legendary Scottish golfer who has had one of the best careers of any European player in history.
Most famous location: St. Andrews, Scotland- known as 'the home of golf' (Britain has a lot of sporting homes), St. Andrews is the oldest golf course in the world.
Britain's biggest rivals: USA- in the Ryder Cup held every two years, Britain joins forces with the rest of Europe and plays against the USA in a team match.
Boxing
---
Boxing is participated in throughout Britain right the way from amateur level, all the way up to professional. Though it may seem brutal, it is actually a very technically difficult sport, and if practiced with the right precautions shouldn't be dangerous. Britain has a rich history of successful Olympic and professional boxers (Olympic entrants cannot be professionals).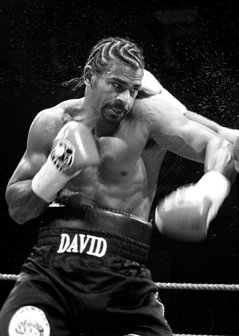 Technical term: Knock Out- when a boxer knocks his opponent down and he doesn't stand up after the count of 10.
Best known British boxer: David Haye (left)- current World Heavyweight Champion and never shy in front of the media.
Most famous location: The locations vary depending on where the big fights can get the most spectators. Boxing rings have been placed in the O2 Arena and MEN Arena recently.
Haye's biggest rivals: The Klitschko Brothers- Haye has never actually fought either of these brothers form Ukraine but they are the only two others in the world who are also Heavyweight Champions.
Darts
---
Darts is played in Britain far more than anywhere else in the world. In almost every pub you go to there will be a dart board that you can play on with your friends. It is a very simple game where you throw a sharp metal dart at a board where different areas are worth different scores. To play it is incredibly easy, to master it is incredibly hard.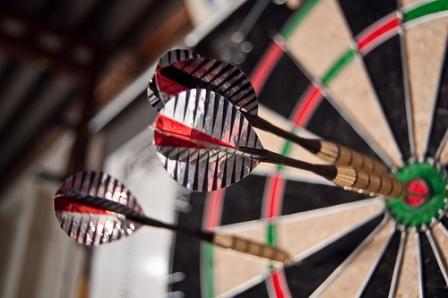 Technical term: Bullseye- the small circle in the middle of the dart board that is worth 50 points.
Best known player: Phil 'The Power' Taylor- the most successful darts player of all time, he has won 15 world championships.
Most famous location: Lakeside, Surrey- where the world championships are held each year.
Taylor's biggest rival: James Wade- Taylor is loved by crowds across the country, whilst Wade is generally hated.
Snooker
---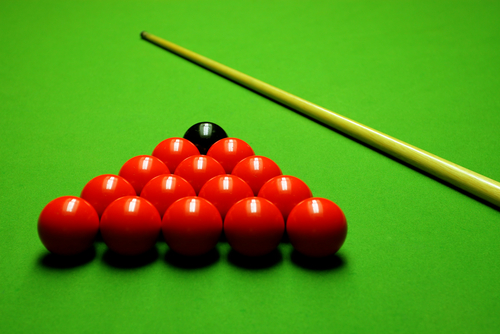 Another traditional 'pub game', snooker tables can still be found in clubs all over the UK. Like darts, British players dominate world snooker and all the world championships are held in the UK. However, players in pubs and clubs up and down the country are at the heart of snooker. If you have played pool before then it is similar to snooker, except snooker tables and balls are much bigger. The rules are easy to pick up, so why not give it a go?
Technical term: Snookered- when the white 'cue' ball is in such a position that a player cannot hit the right coloured ball directly.
Best known player: Ronnie O'Sullivan- 'The rocket' as he is known, is one of the most charismatic and gifted snooker players to have ever played. He's fast play, stunning shots and rebellious attitude all separate him from other players. On the right you can watch him score the maximum number of points possible in on 'frame' of snooker.

Most famous location: The Crucible Theatre, Sheffield- where the world championships are held every year.
Biggest rivalries: Stephen Hendry and O'Sullivan- two of the best players ever to have played snooker and two very contrasting personalities. They have had many great matches over the years.
---
Quick Links: Football | Cricket | Tennis | Rugby | Olympics | Golf | Boxing | Darts | Snooker
---