The Royal Family Tree

Royal Family Home Page | Key Members of Royalty | Royal Residences
British Royal Family Tree
Here you can find the family tree of the current British royalty to help make sense of what can often seem very complicated.
Below each family member you can see the year they were born and their position in the line of succession to the throne. For example, if the Queen died now, then Prince Charles would take over as King, but if he couldn't then his son, Prince William would, as he is 2nd in line.
Most members of the royal family also have their own title that you can also see below.
P= Position in the line of succession to the throne.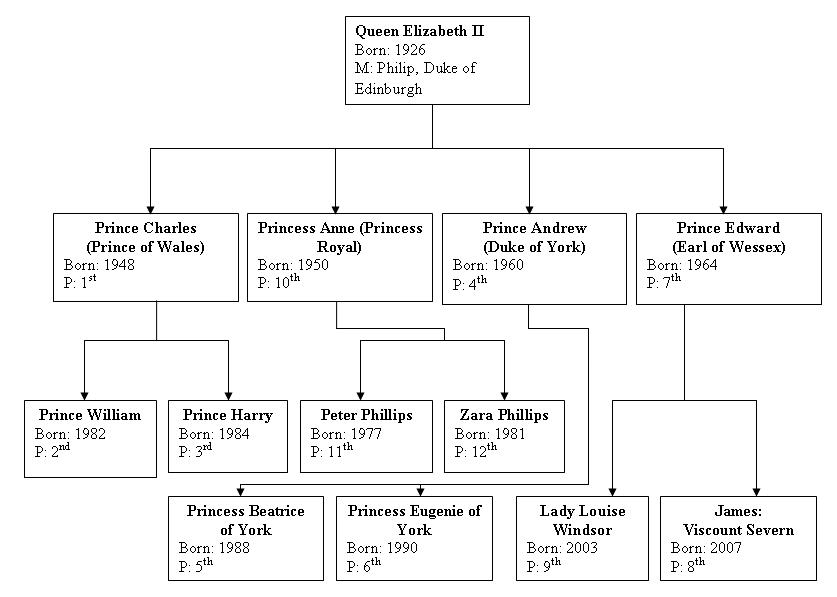 As you can see from the family tree above, Queen Elizabeth II is married to Prince Philip (also known as the Duke of Edinburgh), and they have four children. They are Prince Charles (the Prince of Wales), Princess Anne (the Princess Royal), Prince Andrew (the Duke of York) and Prince Edward (the Earl of Wessex).
Each of Queen's children has two children of their own. Her eldest, Prince Charles, is now married to Camilla Parker-Bowles, but had two children with Princess Diana before she died. They are Prince William (now engaged to Kate Middleton) and Prince Harry.
Princess Anne has Peter Phillips and Zara Phillips, Prince Andrew has Princess Beatrice and Princess Eugenie, whilst Prince Edward has Lady Louise Windsor and James (Viscount Severn).
As of yet, none of the Queen's grandchildren have any children of their own, and indeed, only one of them is married- Peter Phillips.
For more information about all the members of the British Royal Family, click on the 'Key Members of Royalty' link below.
---
Royal Family Home Page | Key Members of Royalty | Royal Residences
---