3 Tips to Make Your Student Life Easier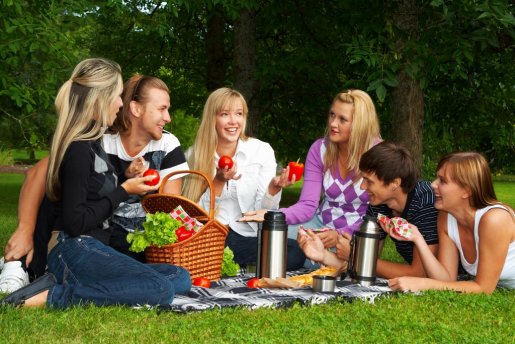 The life of a student has two sides. On the one hand, there is this new level of independence, the huge number of possibilities to have new experiences and so on. And yet, on the other, scarier hand, a list of new and unprecedented problems and questions seem to wait just for you.
How can I save money without having the feeling of living a beggar's life? Which recipes suit both my (low) budget and my taste? What are the best ways to comfortably earn some extra money? And, after having resolved the financial challenges, how can I socialise and make some lovely new friends?
Having got through all these problems myself, I can provide you with some quick, handy and useful tips to make your everyday life much more comfortable.
1) Keep calm and enjoy your meal
I know that probably 80% of you come to university not having any further cooking experience than how to 'cook' instant pizzas and noodles (I'm not blaming you, Mum's dishes tasted too good). Am I right? If yes, try this super-quick, super-budget and super-lovely curry.
Chicken and Vegetable Curry (from this recipe):
2 tbsp. of your preference of curry paste
1 Large onion diced
2 chicken breasts diced
Any mix of veg you like e.g. mixed veg, peas, carrots etc.
200ml of coconut milk (You can buy tins or sachets that you dilute in water)
250ml vegetable stock
250ml chicken stock
Fresh Parsley
What you do:
Gently fry the onions until they start to become transparent.
Add the curry paste and fry for a couple of minutes before adding the chicken and fry until browned. (If it starts to stick add splashes of the chicken stock)
Add all your veg with a little salt & pepper (optional) followed by the coconut milk, vegetables and chicken stock. Stir well
Let it simmer for 15 - 20 minutes. Lightly cover the curry's surface in fresh parsley leaves and stir well to serve
2) Making extra money is as easy as pie!
Okay, now you have this delicious sounding curry recipe. But what if your wallet says 'no' to your plans because of the high rental costs or the freaking massive tuition fees? I know the answer: keep your eyes open to jobs directly at your university.
Of course, working in a pub or a restaurant can be quite enjoyable, but if you feel like your salary is not satisfactory or the distance to your workplace could be shorter, just apply for a job as a staff member at your campus bar or kitchen. It's easy, you are in contact with fellow students and it is just next to your seminar room.
There are plenty of other opportunities too. Helping out on Open Days and other events at your university or giving private tuition to fellow students for example. Finding a job right on your doorstep is so easy.
3) Join campus societies to share your interests with fellow students
The most important basis of a friendship is definitely having similar interests. So isn't it obvious you should join groups where there are loads of fellow students who want exactly the same as you (developing their interests while making new contacts)?
The number of such societies at university is almost endless. If you're a sport freak, then join a sports club. Do you want to improve your skills in your subject? Learning as a group is so much easier and much more fun, so join a subject-based society. And for those of you who want to make a difference, a volunteering society will suit you perfectly.
Julia is a German currently living and working in London.
Share with friends