Champions League Final: German Football is Coming to London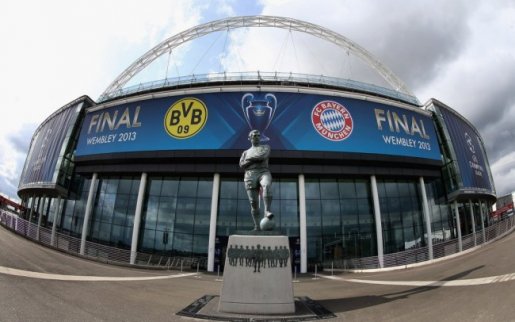 German football fans will be descending on London in their hundreds of thousands this weekend, with an all-German Champions League final at Wembley taking place on Saturday night. Bayern Munich and Borussia Dortmund will be battling it out to be crowned champions of Europe, whilst fans will be trying just as hard to get their hands on an elusive ticket to the match.
Wembley is hosting the showpiece match for the second time in three years, and each team will have 25,000 supporters inside the stadium. However, it is expected that those lucky enough to be at Wembley may be dwarfed by the number of those in London without a ticket.
When the tickets went on sale, a grand total of 502,567 Dortmund fans applied for one, with less than one in twenty of them getting allocated one. Similarly, over 250,000 Bayern fans applied for their allocation of just 25,000. All that adds up to a lot of fans willing to travel to London who are without tickets.
The Metropolitan police are (very) conservatively estimating that several thousand German fans will be travelling without tickets, plus there are the 300,000 Germans who are currently living in the UK. When they are all added up, experts are predicting as many as 150,000 German fans could descend on London.
Expectant German Pubs
Pubs in the Capital are bracing themselves for a busy weekend. Regardless of the teams playing, the Champions League final is always going to be one of the busiest nights of the year- 167 million people watched on TV around the world last year.
German pubs in particular are looking forward to a memorable evening. Jürgen Männel, manager of the German pub Zeitgeist, has space for 500 people, yet expects "3,000 guys will try to get in". He thinks that many will turn up in the morning for breakfast and then just stay all day until the match.
The Two Teams
The match itself is between two of Germany's biggest clubs- the first all-German Champions League final ever. Bayern Munich are the undisputed kings of German football and will have appeared in three of the last four finals. After losing in their last two, they will be hoping it is third time lucky, and their 7-0 humbling of Barcelona in the semi-final certainly sent a clear message.
However, it is Dortmund who are the neutral's favourite. After some success in the '90s, the current team appeared out of nowhere to win the German Bundesliga twice in succession. They have some great young German players, but their manager is the real star of the show.
For anyone unacquainted with the Dortmund manager, Jürgen Klopp has captured the hearts of British football fans with his mad interviews and classic quotes. He looks like a messy Geography teacher and is always cracking jokes, but has got his team playing beautiful football. To get an idea of why he's so loved, this brilliant interview with him in the Guardian is a good starting point (on describing his wife's career as an author: "She wrote a book for children. It's like Harry Potter- but it's about football. There's no Harry Potter flying on his f*****g stick- just football").
Are you a German fan either living or travelling to London? Let us know below.
Share with friends