Divided Reaction to Margaret Thatcher's Death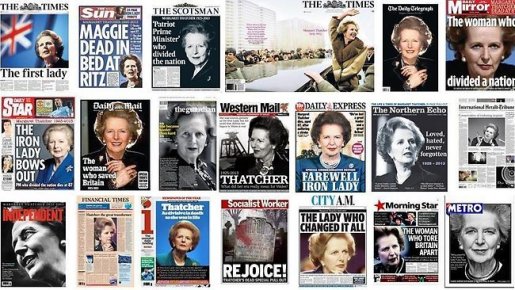 Former British Prime Minister Margaret Thatcher died yesterday at the age of 87. She was the first (and still only) female PM and ruled Britain for 11 years during the turbulent 1980's. She divided opinion more so than almost any other public figure, and the reaction to her death reflects this.
On the one hand, she is to be given a ceremonial funeral at St Paul's Cathedral, taking the same status as Princess Diana and the Queen Mother, whilst on the other, there is still a lot of anger towards her for many of her policies during her time in power. There is the contrast of hundreds of bunches of flowers left in condolence at her London home, and crowds gathering to celebrate her death in Brixton (an area that saw fierce riots during Thatcher's time in charge).
We've gathered together some of the reaction to her death from world leaders, newspapers and celebrities on Twitter.
British & World Leaders
After hearing of Lady Thatcher's death, current and former leaders from Britain and around the world led a chorus of condolences.
David Cameron: "We have lost a great leader, a great prime minister and a great Briton...She didn't just lead our country, she saved our country, and I believe she'll go down as the greatest British peacetime prime minister."
Barack Obama: "The world has lost one of the great champions of freedom and liberty, and America has lost a true friend. As a grocer's daughter who rose to become Britain's first female prime minister, she stands as an example to our daughters that there is no glass ceiling that can't be shattered."
Mikhail Gorbachev, Former Soviet leader: "We were able to reach mutual understanding, and this contributed to changes in atmosphere between our country and the West, and to the end of the Cold War. Margaret Thatcher was a great politician. She will remain in our memory and in history."
FW De Klerk, Former South African President: "She will be remembered not only as one of Britain's greatest prime ministers but also as a leader whose policies and approach had a significant impact on politics throughout the world. Although she was always a steadfast critic of apartheid, she had a much better grasp of the complexities and geo-strategic realities of South Africa than many of her contemporaries."
Joe Anderson, Labour Mayor of Liverpool (an area where there is even now a lot of anger towards Thatcher): "Tories believe in division and inequality. Thatcher defined that and Thatcherism continues today as bad or worse than her period in office."
Nancy Reagan, Former US First Lady: "Prime Minister, Margaret had the clear vision and strong determination to stand up for her beliefs at a time when so many were afraid to "rock the boat". As a result, she helped to bring about the collapse of the Soviet Union and the liberation of millions of people. The United States knew Margaret as a spirited and courageous ally, and the world owes her a debt of gratitude."
British Newspapers
The British newspapers mainly went with full page photos of her time in power, with a few choice words. Most stayed clear of political allegiance.
Celebtities on Twitter
As with any major event these days, Twitter was crammed full of people giving their immediate opinion on the death. Among the hundreds of thousands of tweets, a number of celebrities gave their opinion on the life and death of Margaret Thatcher.

Former Spice Girl Geri Halliwell was one of the more unlikely celebrities to offer her condolences and reveal her respect for Lady Thatcher, before quickly deleting the tweet after it went viral.
Margaret Thatcher died today.A great lady she changed the face of British politics, created opportunity for anyone to succeed in the UK.RIP

— Lord Sugar (@Lord_Sugar) April 8, 2013
Apprentice star, member of the House of Lords and businessman Alan Sugar revealed his admiration for her.
We now live in a country in which John Major is our greatest living politician.

— Armando Iannucci (@Aiannucci) April 8, 2013
Despite his largely liberal leaning, comedian and satirist Armando Iannucci (the brain behind 'The Thick of It') still showed his respect for Thatcher as a politician (whilst having a dig at today's crop).
They say the British can put a smile on even the saddest of news, and one of the more light-hearted reactions to the news came unintentionally from One Direction fans. After band member Harry Styles tweeted his condolences to 'Baroness Thatcher', the replies from fans were certainly...different.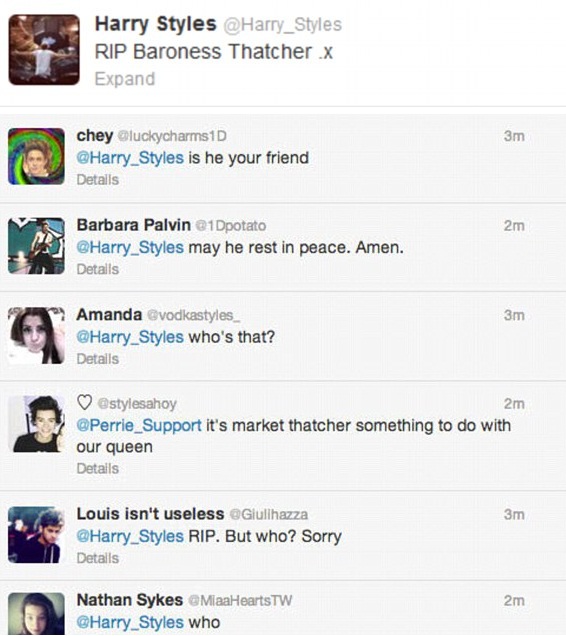 Share with friends