Film Review: Fast & Furious 6 & The Great Gatsby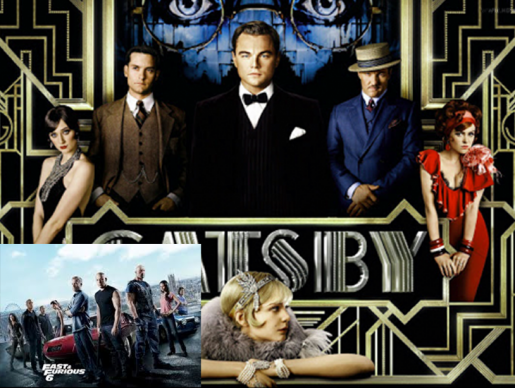 Last month has flown by; May has been hectic with the end of my first university year abroad. I was meant to make the most out of my stay but the weather has forced me to stay in!
I was watching the news the other day on a French TV channel and the reporter claimed that cinemas have made huge profits recently due to the poor weather. This is most likely to be true, as I have been going cinema quite often and I have couple of reviews for you here. First and my favourite as well:
Fast & Furious 6
The movie is definitely a must-see, with humour and terrific action scenes. Even though the ending was a bit long with the world's longest take off, the movie remains great.
I have been surprised by how great the movie was (well to my opinion at least) although it contains a bit of drama as it is a classic, typical action movie with fight scenes, explosions, and car races…
It is a great action film that offers an adrenaline rush and breathtaking scenes. I recommend it warmly.
The Great Gatsby
Unfortunately, I have seen this movie in French, but I don't think that this was a real problem as I loved this adaptation. Adapted from Fitzgerald's novel, the movie is all about excess and emptiness- just like the novel is.
The story is told by the narrator, Nick (Tobey Maguire), who's fascinated by Gatsby (Leonardo DiCaprio), a hero who is a pure victim of his love for Daisy (Carey Mulligan) who loves him disproportionately in return.
His love for Daisy is a punishment to himself as he endures the torments of a love that cannot be. The movie offers crazy scenes and zooms on characters and their costumes in 1920's New York.
It is a lesson for pessimistic people to make choices in our own lives in order to realize our dreams despite the fact that they might not come true in the end. DiCaprio takes on the role of a man of perfect tastes and manners, someone he pretends to be.
The narrator (Nick) is exhausted of those people who pretend to be someone they are not, but his friendship with Gatsby will help him to learn to be optimistic and believe.
Manuela Constantini is a French student currently studying for a degree in Communication Studies at the University of East London. Read more posts by Manuela here.
Share with friends