Golden Start to London Paralympics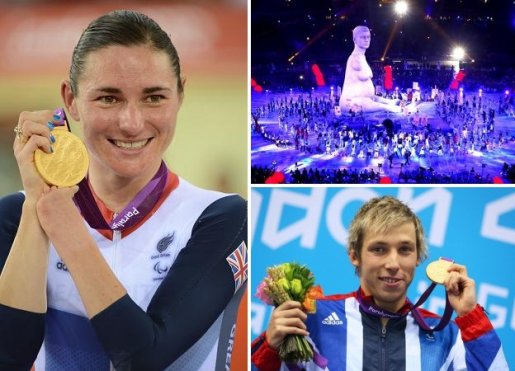 The London 2012 Paralympics kicked-off on Wednesday night with a spectacular opening ceremony, before the Team GB athletes held up their side of the bargain with two gold medals on the first day.
Ceremony with a Message
The opening ceremony, whilst maybe not quite as spectacular as Danny Boyle's Olympic equivalent, was brilliant. A theme of scientific discovery and enlightenment ran throughout, and Professor Stephen Hawking was in the Olympic Stadium narrating the events going on around him. As a world-famous scientist who himself is severely disabled, he was the perfect candidate for such a role and brought with him the message: "Look at the stars and not down at your feet ... Be curious".
With the scientific theme running throughout, the ceremony started with a glowing, fiery orb that represented the Big Bang, before a pulsing mound of people came to represent the recent Higgs Boson particle discovery. There were hundreds of volunteers dancing with umbrellas, flying wheelchairs, spinning acrobats, giant human rights books and Ian McKellen reading Shakespeare. This was a ceremony that had a clear message but certainly didn't take itself too seriously.
It is hoped that these Paralympic Games will be the biggest and most successful in history, and the viewing figures for the opening ceremony certainly backed that up. At its peak, the programme was watched by 11.2 million viewers in Britain, which is more than three times the amount that watched the Beijing equivalent in 2008.
Golden Start for Team GB
With the smoke still clearing from the fireworks of the opening ceremony, the real action began yesterday morning, and Team GB started with a bang. By the afternoon they were akready celebrating their first gold of the Games after cyclist Sarah Storey won the C5 individual pursuit title, breaking a world record in the process.
Amazingly, this was her eight Paralympic gold medal in her second sport. She had already won five golds as a swimmer before switching to cycling and winning a further two more golds in Beijing. Born without a fully developed left hand, she only narrowly missed out on a place in the all-conquering London 2012 Olympic cycling team, and had far too much power for any of her competitors.
Just a matter of hours later Jonathan Fox claimed Britain's second gold medal after winning the men's 100m backstroke. After his victory, he revealed: "It was really, really amazing. When you touch the wall the crowd just roars". Three silver medals and two bronze were added to the two golds for Team GB, leaving them sitting pretty in third place in the medal table after the first day of competition.
Huge crowds will be cheering on more hopefuls today, as well as the millions watching on TV. In the UK, the Paralympics are being shown on Channel 4, with 500 hours of live coverage coming over the next eleven days. If you haven't seen their brilliant advert for the Games yet, have a watch below:
Share with friends