The Harlem Shake and the 'Trap' Genre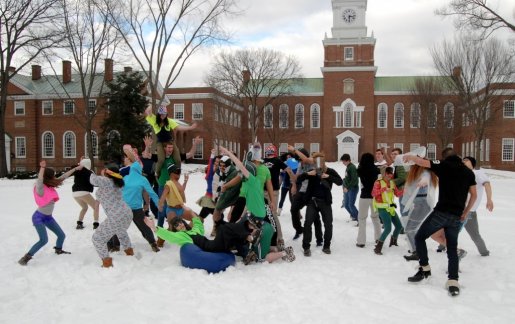 Last year it was PSY's 'Gangnam Style'. Now Baauer's 'Harlem Shake' has gone viral. Since February 2013, we've all heard it played somewhere. The raucous composition had its rather bewildering fifteen-minutes-of-fame earlier this year, and appears still to be basking in the afterglow of Internet Celebrity for the many meme-architects who have refused to move onto the next 'big fad'.
Not claiming to be any musical authority myself, I set out (like so many before me) to un-shroud the ambiguity surrounding the Harlem Shake. Released in early 2012, the song didn't actually receive any notable degree of worldwide acclaim until early 2013, when the recognizable videos featuring large groups of enthusiastic, vigorous dancers began to appear on Youtube. The Harlem Shake itself has become a widespread internet meme, almost irrelevant to the song itself. However, in some circles, it has been viewed in more serious eyes, under the technical microscope of music producers whose receptions of the whimsical tune have been mixed.
Classifying the Harlem Shake
Eras before we'd even conceived the idea of masses of energized adolescents juddering wildly to Baauer's track (April 2012...) DJ Rustie inserted the Harlem Shake in a Trap mix for the BBC. How exciting for Baauer. And thus explains the umbrella inclusion of the Harlem Shake under a genre that had, in previous times, rarely taken its influences from EDM (Electronic Dance Music).
According to Billboard, the track boasts "the booty-popping BPM of hip-hop with the buildup/drop arc of dance music, plus Dutch house synth riffs, a rap sample, animal noises and drum'n'bass-inspired sub-bass," but has been popularly defined as 'Trap'. As previously stated, I possess no dependable understanding of today's music, and therefore represent the general population in saying that I, personally, did not register the word consciously (in relevance to music) until after my own discovery of the Harlem Shake videos. However, now with a vague understanding of what Trap is, it seems that the song might fall into any category that includes half-time drum&bass drum patterns, and its definition as a particular genre really is a matter of personal outlook.
The 'Trap' genre
Appearing for three weeks in the Billboard Hot 100, it can be argued that the Harlem Shake is a product of the recent years' exploding market in novelty songs. Much like the popular explosion of Dubstep towards the end of 2011, most of the EDM-inspired Trap that has been appearing in response to Baauer's song is created with comical intentions, and is not meant to be taken too seriously.
But it is not in EDM, but in Southern Hip-Hop that Trap's ancestry actually lies. In gang culture, a trap often refers to the location at which drugs are procured, and Trap-Rap originally referred to rap that alludes to underground drug culture. It has, since its conception in the early 2000's, evolved to include the more dance-floor oriented crowd that is so prominent in the UK. Only in 2012 did these electronic developments occur on the scene, but Trap has already been marked as "the new Dubstep".
EDM's Cannibalization
With the exclusion of the more sinister ethical issues confronted by Trap-Rap of early last decade, it has managed to explode in the less socially conscious, rave-fuelled electronic scene. It should be noted that the Trap of 2013 is poles apart from that which was being made in the early 2000's. The issue that is presented here is one prominent in much of modern world music: is it dismissive of the pioneers of Trap, whose heart-wrenching lyrics received so little global attention until now, to allow post-2013 EDM Trap to fall under the same genre?
In researching this topic, I came across a description of EDM as "cannibalizing" other varieties of music - a genre with a mission. Fortunately, after the initial wave of cannibalization (such as the assembly of Dub, and eventually Dubstep through Reggae), the original genre tends to step out of the limelight and return to its traditional means of production. The suggestion here was that, out of respect to those who have endured the hardships revealed in he lyrics of original Trap, the creators of EDM Trap make the distinction between the classification of their music and original Trap to include two subgenres.
Inevitably, the music of today will be replaced by something else, and like Gangnam Style, the Harlem Shake will soon dissolve into the endless collection of songs that have gone viral since the origin of Youtube, restoring Trap's fans once again to a niche crowd - albeit perhaps expanded to include a few frivolous EDM enthusiasts.
Hayley Ferguson is a Canadian student currently studying German Literature at King's College London.
Share with friends