I Finally Amsterdammed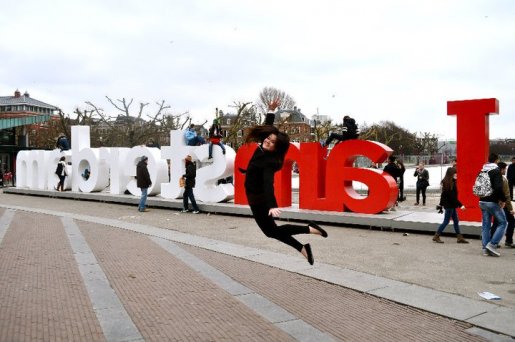 Last month I left London on an easyJet flight, checked in at Abba Hotel, left my carry-on in my assigned room, took out my Nikon and I was ready to go. Cultivated by a vast collection of the most colorful stories, my imagination informed me I had just arrived in the ultimate haven for drugs and sex lovers. This was the hippie city of legal "sex workers" where marijuana roams free and 6% of tourists visit just to lose themselves in the unique cannabis coffeshops and the brothels of the world-famous Red Light District. Ladies and gentlemen, this was Amsterdam.
Except that it wasn't. The crazy city filled with druggies and prostitutes was just one face of the multifaceted Amsterdam that greeted me. I first discovered some other less known faces thanks to 'Sandemans New Europe', a company that offers FREE tours of various cities around the continent. Aurora, our guide from Seville, volunteers for the company in exchange for tips, which fall at the discretion (and pocket power) of visitors. With her Andalusian charm, Aurora took us to blooming tulip gardens, the house of Anne Frank, some of the 1,400 bridges that link concentric circles of beautiful canals and the old customs house that served as the anatomy lab where Rembrandt found inspiration for his paintings.
"Openness and Integration"
This was a versatile, cosmopolitan center of hydraulic genius and architectural beauties, a city that has never bequeathed the entrepreneurial drive of its peasant founders or the tolerance that fuelled its growth. Only in Amsterdam does a popular nightclub vibrate in a former church, or Protestant and Christian churches sit next to each other. Amsterdam is home to the first Homomonument, a memorial that honors all gay and lesbian inhabitants that have been persecuted for their sexuality. And Amsterdam is a city to explore on two wheels, disregarding the traffic lights, which don't make sense anyway.
I loved Amsterdam for its openness and integration. Rarely have I found a city with such large windows as transparent as the water that surrounds them everywhere. In Amsterdam, sex and drugs and virtually everything else is public and visible. Marijuana and other commonly abused drugs are openly smoked in cafes. In the streets, people and trams and bikes and cars transit through the same lanes in a mind-boggling organization that I found totally inexplicable. Life in Amsterdam is governed by a different set of literal and unwritten laws based on elements that would be unthinkable in other countries (for example, a government task force made up of DJs to revitalize nightlife). Amsterdam is not scared of the new, the different, or the open. In that sense, I am-sterdam.
And here are my top tips for student travel in the Dutch capital:
- Hotel: Abba Hotel
- FREE Tours: SANDEMANs NEW Europe
- Excursions: Windmills and Edam
- Museums: Anne Frank, Van Gogh, and Heineken Experience
- Tourist guide: Time Out
---
Maria is a guest blogger for Foreign Students. She posts regular updates of her experiences as a postgraduate student at LSE in London. Click here to see her older posts.
Share with friends