Ice Hockey in London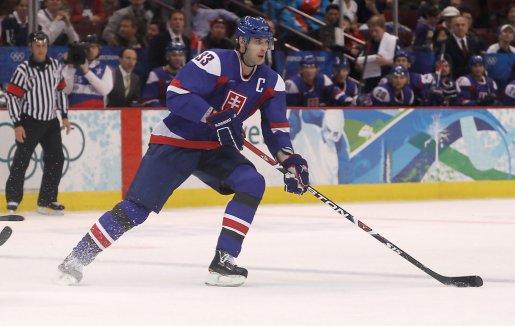 In my home country, Slovakia, ice hockey is one of the national sports. Many people follow the ice hockey leagues and in their free time chase the little black thing called a puck. In May, during the Ice Hockey World Championship, the whole country follows the games of the national team. Actually, for two weeks we turn out to have 5.5 million experts ready to stand up for the team's manager.
Here in England, the football fools, rugby lads and cricket crazies do not care about ice hockey. But the eastern Europeans would not back down from their sport, nor would they abandon beer and vodka. Therefore I took the chance to experience the ice hockey atmosphere in a pub with a live screening.
Every year in May, the Famous Three Kings in West Kensington turns into an ice hockey den. I do not know why, and not even the most frequent visitors could tell me, but the pub is a meeting place for Slovaks. Long before the match, you could her Slovak hits from the jukebox- Elan, Peha, Palo Habera, No Name....Google the bands.
We played Russia and needed to win if we wanted our quarter final dream to live on. The atmosphere was excellent, but a friend reckoned that it was even better during last year's final when we took the silver medal. Today we lost, but the match was dramatic.
During the break, I demonstrated how we scored the contact, short-handed goal (when you score during penalty killing, playing short of one player). I left the place in the middle of chants 'Russia, Russia'. But I was proud that Slovaks watch the hockey and also pay money for the much more expensive drinks in west London.
Erik Redli is a university graduate from Slovakia who is currently living in London. Read more of his posts here.
Share with friends