The International Student Problems Blog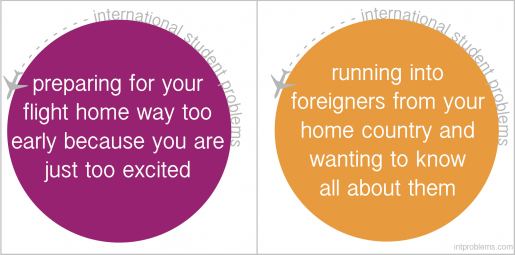 There's a new face on the internet who is taking the student blogging world by storm. IntProblems.com has a selection of brilliant images pointing out the common problems and differences that international students face in a new country (just like the ones above). It seems other foreign students can relate to the amusing observations and every new post is being reblogged around the world, with the online community growing all the time.
After spotting the blog, we had to know who was behind it, and discovered 20-year-old Boston University student Tessa ten Cate. We spoke to Tessa to find out her background and why she created IntProblems.com.
What's your background?
"My name is Tessa ten Cate. I'm 20 years old and am currently a senior at Boston University majoring in Magazine Journalism and minoring in Psychology. I was originally born in The Netherlands as both my parents are Dutch, and I have a Dutch passport. When I was two-years-old my family (parents and two older brothers) moved to Taipei, Taiwan where we lived for eleven years before returning to The Netherlands."
Why did you decide to study in America?
"I attended international/American schools in both Taiwan and The Netherlands so I decided that because I was so used to the American education system I wanted to go to college in the States. That's when I moved to Boston and began noticing the little things that made me different as an expat. I have an American accent, so most people assume I am American and therefore also assume that I know all the cultural references and brand names, but I often had to ask about them - which is when I began International Student Problems."
Why did you start IntProbelms.com?
"IntProblems.com is targeted at International Students and Third Culture Kids who are attending college somewhere away from their home country. It is for those who feel like they fit in with their peers but still notice slight differences in the social culture, mannerisms, slang, and flight/travel culture."

"Intproblems is a way of keeping track of the smaller culture shock moments you experience abroad. I create the majority of the posts myself, but also get suggestions from Tumblr users from time to time and post those as well with their name credited. The feedback I have gotten so far has been great and it seems that many students can really relate to the posts."
Although Tessa's posts at the moment are all about her experiences in the US, the good news for international students in the UK is that she is spending the summer in London. So we can expect plenty of brand new posts, all based around her experiences here.
Make sure you check out her blog. What little problems and cultural differences have you faced? Leave a comment below to see if others agree.
Share with friends