Massive Fire Breaks Out in Byker, Newcastle Scrapyard

Early this afternoon, a fire broke out in Newcastle in the North East of England, and whilst early reports suggested it was at a Northumbria University building, it was quickly revealed that it started in a scrap yard in an area called Byker.
Although the fire was not as big as first thought, it still took eight fire engines and over 40 firefighters to control the blaze, which they eventually did after hours of fighting it. The burning material in the scrap yard sent out huge plumes of thick, black smoke which could be seen from as far away as Durham.
Although several nearby streets were evacuated and local residents were advised to keep their windows shut and to stay indoors, there were only two minor injuries, both of which were treated at the scene.
The Power of Twitter
One of the main talking points to come from the whole episode was the way in which the story broke. Before any major news sources were reporting on it, Twitter was buzzing with the news with thousands of eye witnesses tweeting reports and photos. At one point '#byker' was even trending worldwide on the social networking site.
Indeed, as the details of the story were gradually made clear, it was obvious that the fire itself was not that big an event, but the buzz on Twitter had forced the media's hand and it was soon being reported on an international stage.
Here at Foreign Students News we were one of the first to report on it, and you can see the live updates below:
Live Updates
2.50pm: Since it has been announced that no one was badly hurt and the fire is now under control, hundreds of people have tweeted jokes. Here are a select few:
@ryantomlinson: No need to worry about the fire in #byker. Gazza has turned up with a can of lager, some chicken and a fishing rod.

@SimonDedman: Glad I didn't leave my clothes out to dry today.

@Picklesquish: have council cuts meant that fire is now an affordable way to remodel the place?

@exBatHen: There goes Newcastle's carbon neutral city status
2.47pm: The fire is gradually being overcome and the huge plumes of black smoke have been replaced by smaller amounts of white smoke. Two people were injured but are being treated at the scene, but it appears no one was badly hurt by it which is good news.
2.32pm: An early ITN news report
2.15pm: An enterprising ice cream man has turned up at the scene with his van to serve the people watching. Sign him up for The Apprentice!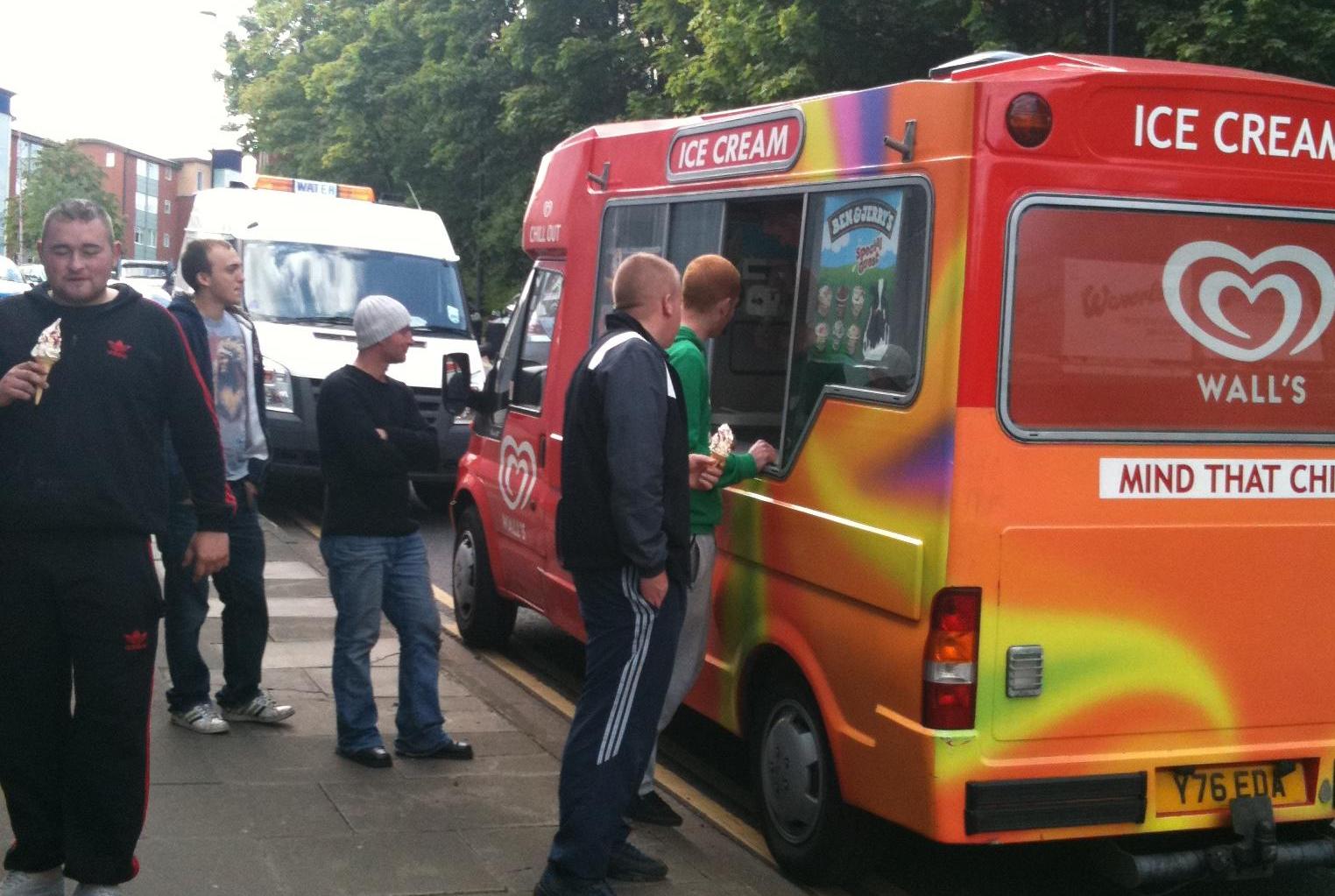 1.55pm: Some houses in nearby streets have been evacuated. The video below gives you an idea of the size of the fire.
1.49pm: A picture of the fire close up:
1.44pm: A statement from the fire service:
"More than 40 firefighters are tackling a fire at a former scrapyard in Albion Row, Byker in Newcastle. Twelve fire appliances are on the scene, including two specialist aerial ladder platforms.

Tyne and Wear Fire and Rescue Service is advising residents to keep their doors and windows shut as a general precaution which should be more than sufficient for this kind of fire.

Our Control Room has been inundated with calls about the incident and we would like to thank the public for their vigilance.

Firefighters were called to the scene at 12.20pm today."
1.35pm: There are an estimated 40 firefighters at the scene now and nearby residents have been told to keep all windows shut and to stay indoors as a precaution.
1.26pm: The plumes of smoke can be seen in Newcastle City Centre and as far away as Wallsend, South Shields and Consett.
1.17pm: Eight fire engines have been sent to the scene, which police are now calling a 'major incident'. Within minutes of the story first breaking, it is already trending on Twitter.
1.02pm: One of the webcams at the university's library is filming the fire live.
Are you in Newcastle or near the fire? Leave your comments below and let us know what you can see, or post a picture on our Facebook page.
Share with friends