Olympic Missiles On East London Flats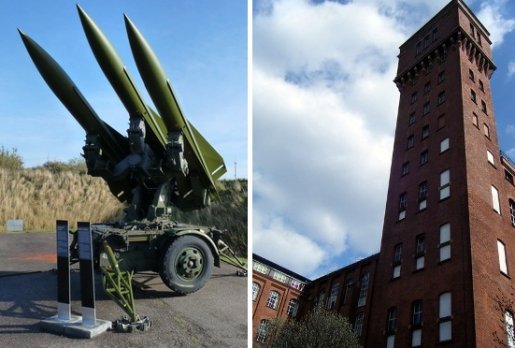 East London residents received an unusual letter last week, warning them that surface-to-air missiles may be placed on their roof during the Olympics. The Ministry of Defence (MoD) sent the leaflets out to 700 people living on an estate in Bow, many of whom were not best pleased.
In leaflets handed out and posters put up, the MoD revealed that an old water tower (above right) that now houses flats may well be used as a base for a "Higher Velocity Missile system". They explained that "the location has been chosen as it is situated close to the Olympic Park and offers an excellent view of the surrounding area and the entire sky above the Olympic Park".
Despite these warnings, it is still unclear whether the MoD will even deploy ground based air defence systems during the London Olympics 2012. Though they have been a common feature of a number of previous Games, the logistics of placing them are proving difficult. A spokesman described how these specific missiles are "designed to counter threats from very high performance, low-flying aircraft", though would only be used "in response to a confirmed and extreme security threat".
Residents' Concern
Despite these assurances, a number of residents who live on the estate have expressed concerns about the idea. One occupant, Brian Whelan, described how:
"At first I thought it was a hoax. I can't see what purpose high-velocity missiles could serve over a crowded area like Tower Hamlets. They say they'll only use them as a last resort, but... you'd shower debris across the east end of London by firing these missiles."
Not only would there be missiles situated above their heads, but there would also be 10 army officers placed on the estate 24-hours a day for up to two months. What's more, there will be further disruptions on the estate, during a "major national exercise" from 2 to 10 May to test the security measures for the Olympics.
How would you react if the government wanted to put missiles on your house or student halls? Would you see it as an essential sacrifice for the safety of London, or unnecessary overkill just for show?
Share with friends