The People's Voice: Freedom of Speech in Egypt (part 2)

In a special two-part series, Egyptian international student Amr Moufid looks at the state of his home country and the ways that freedom of speech is being challenged. In the first part, he focussed on the supression of TV host Bassem Youssef's satirical news programme 'El Bernameg'.
Egypt has some advantages which can never be taken away from it by anyone- its History, Culture, Civilization- but at the same time it has some issues which no one can deny or ignore.
Before the revolutions, Egypt was a developing country, afterward, it is still developing. However, the two most important achievements to have come out of the previous few years- with their death tolls, terrorist attacks and overall suffering- are firstly, the placement of some top crooks to where they belong, in jail. Secondly, and possibly more importantly, owing to the nature of the very hard past years, the people were finally able to retrieve their voice, their right to speak, their capacity to complain, their freedom of expression.
No one with eyes or ears could have possibly missed the average Egyptian's unique ability to bear the unbearable, to withstand constant suffering, hardship and disappointment. Only a very distracted few could have conceivably failed to notice the lengths of an Egyptian's rope.
Admire or deride it, the fact remains that this trait, to that extent, prospers within the ancient borders of Egypt. Its people can deal with corruption, traffic, pollution, inflation, high prices, lousy transportation and many other bad things, but it is too much to ask them to not even complain, to keep their mouths sealed while they're at it. It is one thing to be obliged to eat dirt, another to have to pretend to enjoy it.
Don't Shut Up Now
Unquestionably these are sensitive times; a new constitution is to be written, a new president to be elected, a new government to be formed and a new country to be built. A lot is to be done. How then can the people be expected to shut up?
How can any politician at this stage, be unaccountable or above criticism?
But most puzzlingly still, WHY WON'T PEOPLE JUST CHANGE THE CHANNEL?!
If they don't speak up during the reconstruction process of their country, provide guidance and direction, who knows what the final product will look like. If you may not scrutinize at a time when, due to your personal effort, TWO of your Presidents are SIMULTANEOUSLY incarcerated and awaiting trial, then when will you be heard?
If the revolutions echo the voice of the people and accordingly their decision was respected, why shut them up now? If the current government, including its Acting President, did not come to power through elections, how can the people just let it be?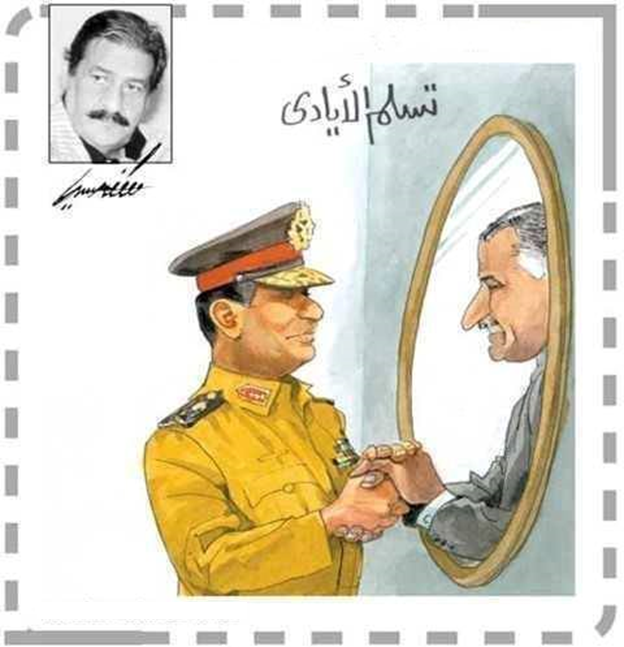 Satirical cartoon: Nasser, El Sisi's Reflection
Be Good or Be Let Go
Already the citizen has turned a man into a national hero; it only follows that the intellectuals should, at least, keep all heroes in check. Men in power have a way of, if left to it, turning quickly into pharaohs. It seems likely that most are prone to it, not to mention the encouragement factor provided, however innocent and unintentional it may be.
Freedom of Speech is the one tangible, vital, positive outcome to have come out of the past years' suffering and sacrifice; under no circumstances should it be lost now or ever. Civil Servants must be kept under constant appraisal and scrutiny; they are the people's employees. Presidents and Generals are leaders by agreement and not by necessity, they are representatives.
It is great to find a real leader but it is vital to suppress a potential tyrant. Already people have started to form huge expectations, to produce unfair comparisons, and have become only too happy to hand over the ropes entirely after all that they've achieved; politicians are to be good or be let go of.
Amr K. Moufid is an Egyptian student studying music in London. You can read more posts by him here.
Share with friends