The Perfect Pancake Recipe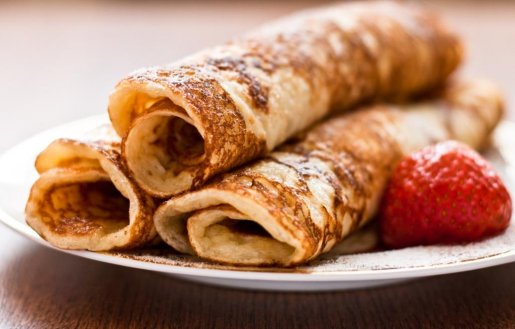 For food lovers, today is one of the best celebrations of the year- Pancake Day. Historically known as Shrove Tuesday, the second Tuesday of February has traditionally been used as a final day to gorge on food before the restraint and fasting of lent begins.
However, these days few people in the UK still fast during lent and today has instead become simply the perfect excuse to eat so many pancakes that you can hardly stand up.
British pancakes are not quite like any other country's. They are much larger and thinner than American pancakes, but slightly thicker than French crêpes. Below you can find a really simple recipe to make perfect British pancakes.
Ingredients (for 12-14 pancakes)
- 110g/4oz plain flour
- pinch of salt
- 2 eggs
- 200ml milk mixed with 75ml water
Step 1: Sieve the flour into a large bowl and add the two eggs. Add a little of the milk/water mix and start whisking the mixture with a fork or balloon whisk.
Step 2: Continue whisking and keep adding more and more milk until it is all in the mixture. Make sure you scrape around the edges of the bowl to get any flour stuck to the sides and try and get rid of any lumps, then add a pinch of salt at the end. Alternatively you can do all this in a blender,
which is far quicker and easier, but much less fun. Put the batter into something easy to pour with and leave it in the fridge to rest for half an hour or so.
Step 3: Take the batter out of the fridge. It may have separated into two layers a little so just give it a quick stir to mix it all back together again.
Step 4: Add a knob of butter to a medium/hot frying pan and coat the surface with the melted butter. Pour in the batter and move the pan around to coat it with a thin layer of batter. Use a spatula to make sure the pancake isn't sticking to the pan and after a minute or two use it to turn the pancake over (this is when the brave can flip it over). After another minute or two (once there are brown spots on the bottom of the pancake) take it out of the pan.
Step 5: To serve it, fill it with pretty much anything you want. Lemon and sugar is very popular in Britain, but anything from strawberries and cream, to chocolate spread, to jam are all brilliant. Spread your choice over the pancake, roll it up and enjoy!
Share with friends