Student Recipe: Pea and Ham Risotto with a Poached Egg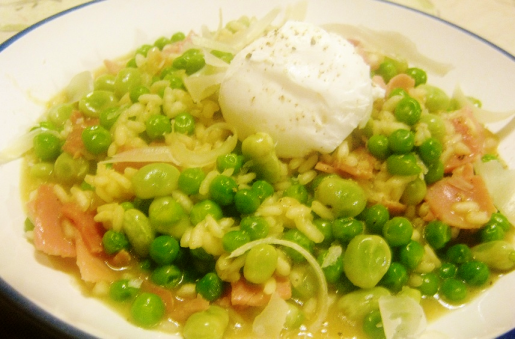 Lizzi Burrows is a chef with experience in Michelin-starred kitchens. In this new series of posts she will be giving recipe ideas perfect for students. First up, pea and ham risotto:
People shy away from risotto, thinking it's a difficult dish to make, but it's really not complicated and it's an ideal meal for students- healthy, cheap and super tasty! The trick is a good base of flavour to the risotto and carefully chosen main elements. This pea and ham risotto is one of my favourites and is perfectly finished off with a kick of mint and a rich soft poached egg.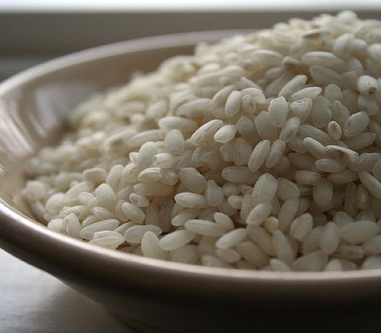 Ingredients
Serves 1
- 80g frozen peas and broad beans
- 80g cooked ham
- ½ white onion
- ½ carrot
- ½ leek
- 1 clove of garlic
- 5g fresh mint
- 75g Arborio rice or other risotto rice (right)
- 600ml chicken stock
- 20g grated parmesan cheese
- 1 egg
Method
- Chop the onion, carrot, leek and garlic as small as you can- you can use a grater if you want.
- Wash the rice until the water runs clear.
- Heat a splash of oil in a pan and add the vegetable base, cook this down for about 10 minutes stirring regularly.
- Add the rice to the vegetable mix, and stir for a minute so that the rice toasts a little in the oil for added flavour.
- Add in a ladle of the stock and stir the rice at a medium heat until all the liquid is absorbed, then repeat this process, and continue to repeat it until the rice is almost cooked through.
- Add in the frozen peas and beans and the cooked ham and add a final ladle of stock, stirring until the peas, beans and ham are warmed through, the risotto should be loose and not stodgy, so add a little more stock if necessary.
- Take off the heat and stir through half the parmesan cheese, the fresh mint, finely chopped, and a knob of butter. Season to taste with salt and pepper.
- Present in a bowl with a soft poached egg and the remaining parmesan grated on top- enjoy!
Top Tips
- If you find that there isn't enough stock, use a little water.
- The more you stir the risotto during the cooking process, the more starch that will be released, and the creamier and more indulgent the dish will seem!
Lizzi will be returning with more recipes soon, but in the meantime, check out her blog- The Travelling Chef.
Share with friends