Super Bowl or Six Nations? The Best Places to Watch Both in London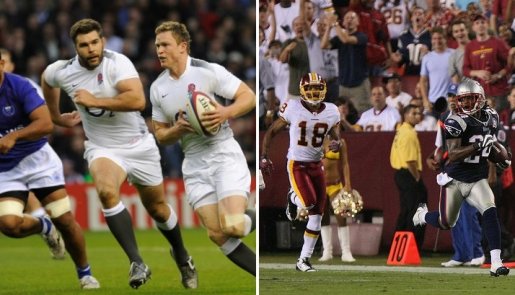 Hot dogs vs beef pies. Budweiser vs ale. There is an eternal battle of cultures between the US and UK, and this weekend we can add another to the list- American football vs rugby.
On Sunday night, it is of course the Super Bowl, but before then the Six Nations kicks-off on Saturday afternoon. Luckily for everyone involved, they don't clash, so you don't need to choose between two of the biggest sporting events from either side of the pond.
Instead, embrace both, choose a couple of venues and enjoy an unbeatable sporting weekend. To help you out, we've gathered together some of the best venues in London for you to watch at.
Super Bowl XLVIII
Sunday 2nd February, UK kick-off 11.25pm
Ok so it is on a Sunday night and doesn't start until almost midnight, but it is only once a year. Prepare for raucous, boozy, foody fun.
Bloomsbury Bowling Lanes
Where? Tavistock Hotel, Bedford Way, WC1H
When? 7pm-4am
Tickets £8 in advance - More Here
Why not match two great American sports in one evening? Watch the Super Bowl and have a ten-pin bowl. With group bookings at this party you'll get a free bowling lane to go along with beer pong, pool and karaoke.
Bar Crawl
Where? Throughout the West End
When? 19:30 - 03:00 (doors at 19:30)
Tickets £11.50 in advance - More Here
The people behind the most famous bar crawls in London will be leading a group around some of the best clubs and bars in the West End, all of which will of course be showing the big match. Paint your face in team colours, jump the queues at all the bars and get cheap drinks.
The Social
Where? 5 Little Portland St, W1
When? Doors open 8pm
Tickets £8 in advance - Buy Here
One of the most famous Super Bowl parties in London. Everything you'd expect (hot dogs, American beer), plus all the ticket money goes straight to Amnesty International. Getting drunk for a good cause? We can get on board with that.
Party At Home
Don't feel like going out on a Sunday night? Then bring the party to yours. Buy some red American party cups, get some beer pong going, stuff yourself on chicken wings and celebrate the Super Bowl like a true American.
The Six Nations
With all six countries starting their campaigns this weekend, we've picked out the best pub for each nationality. The beauty of living in a city like London is that whoever you support, there will be plenty of fans to join you.
Clapham Grand - St John's Hill, SW11
England (vs France, kick off 5pm Saturday)
With the biggest sports' screen in Britain, the Grand is one of the best places in London to watch the rugby. It will be packed, which is great for atmosphere, but not so great if you want to just turn up 2 minutes before the match.
Auld Shillelagh - Chruch Street, N16
Ireland (vs Scotland, kick off 3pm Sunday)
In case you couldn't tell by the name, the Auld Shillelagh is an Irish pub through and through. Known for serving one of the best pints of Guinness in London.
Rob Roy - Sale Place, W2
Scotland (vs Ireland, kick off 3pm Sunday)
It isn't all that usual to find a specifically Scottish themed pub in London, bu the Rob Roy is one of them. With large screens and a strong Scottish base of locals, the atmosphere is sure to be cracking.
Famous Three Kings - North End Road, W14
Wales (vs Italy, kick off 2.30pm Saturday)
Though not specifically Welsh, the Famous Three Kings always draws in a big Welsh crowd and is one of the very best pubs in London to watch any rugby match. An unrivalled atmosphere.
Le Bar De Magis - Battersea Rise, SW11
France (vs England, kick off 5pm Saturday)
This bar is so French that they don't even speak English there. Maybe not quite like the others on the list in terms of pub atmosphere, but you'll struggle to find a more French place in the Capital.
Bar Italia - Frith Street, W1D
Italy (vs Wales, kick off 2.30pm Saturday)
Helpfully for the Super Bowl but not so relevant for the rugby, Bar Italia is open 24 hours a day. As the name suggests, it is also a truly Italian bar. Packed with Italians, it will be the perfect place to cheer on the underdogs of the competition.
Share with friends