The Top 5 US Election Memes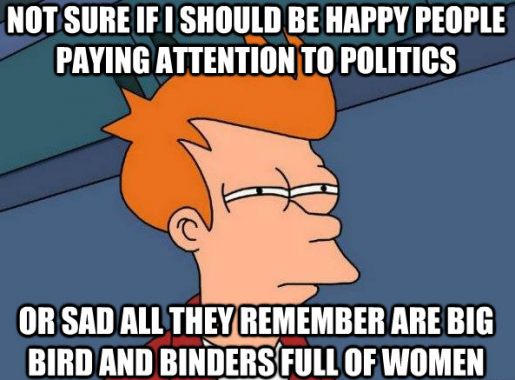 As you may of heard, there is a US election taking place at the moment, with the results just a matter of hours away. Instead of going through opinion polls, repeating tired old quotes and trying to guess who is going to win, we're taking a look at the slightly more light-hearted side of things- how the internet has treated the election campaigns.
Just because Obama and Romney have spent billions of dollars over the course of months on their election campaigns, it doesn't mean everyone is going to take them seriously. Below you can find some of the funniest and weirdest memes that have come out of the last few months of campaigning.
1) Big Bird's Appearance
Things really started to take off once the presidential debates began. With a live audience of millions, any small mistake or odd phrase was quickly picked up on. The biggest thing to come out of the first debate in October was, strangely, Big Bird from Sesame Street.
A PBS (the public TV network) journalist was chairing the debate and Mitt Romney admitted that he would cut the government funding currently given to PBS. The quote that really grabbed everyone's attention was this: "I like PBS, I love Big Bird, but I am not going to keep spending money on things to borrow money from China to pay for".
Within minutes, the hashtag #SaveBigBird was trending on Twitter and hundreds of mocked up images were appearing online. Most of them riffed on the idea of Big Bird being sacked from his job, as our favourite below shows.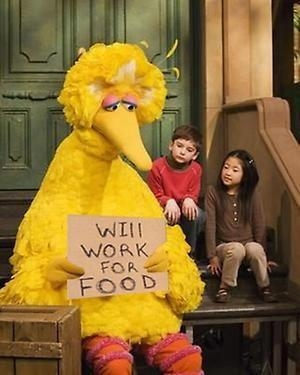 2) Obama Eating Dog
In April this year the media picked up on an extract from Obama's autobiography where he described trying dog meat with his Indonesian uncle when he was a child. Unsurprisingly this was too good an opportunity to miss for many and on Twitter the hashtag #ObamaDogRecipes was soon trending.
Even Romney's campaign strategist Eric Fehrnstrom got in on the act, adding the tweet below:
In hindsight, a chilling photo RT @davidaxelrod: How loving owners transport their dogs. bit.ly/xGeJuZ

— Eric Fehrnstrom (@EricFehrn) April 18, 2012
3) The Romney App
As part of his excursions into the world of social media, Mitt Romney launched his own official iPhone app that allowed users to add pro-Romney slogans to photos they had taken. Whilst slogans like "I'm a Mom For Mitt" and "Obama isn't working" are all well and good, there was one slogan that became far more popular than any of the others.
Unfortunately this was because it contained a spelling mistake in the word 'America'. This led to a whole raft of memes, our favourite involving Ralph Wiggum below: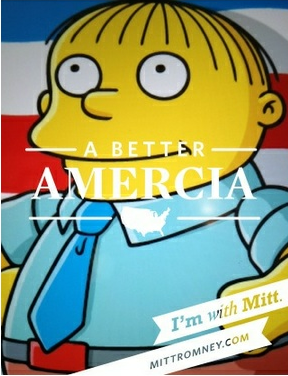 4) Clint Eastwood's Empty Chair
As one of the biggest American actors in history, getting Clint Eastwood to make a speech at their National Convention was a pretty big coup for the Republicans. However, he went on to base the entire thing around an empty chair that was meant to represent Obama. For some reason this confused most people who watched and was ripe for mocking.
The online community didn't disappoint and the hashtag #eastwooding went viral. Thousands of people began uploading photos of themselves pointing at empty chairs, and even the official Obama Twitter account got involved with this effort:
This seat's taken. OFA.BO/c2gbfi, twitter.com/BarackObama/st…

— Barack Obama (@BarackObama) August 31, 2012
5) "Binders Full of Women"
One of the most famous phrases to come out of the whole election campaign was one spoken by Romney in the second debate. In answering a question about pay inequality for women, Romney replied with an anecdote about his time as governor of Massachusetts. That would have been fine if he hadn't included one rather unfortunate phrase:
"I went to a number of women's groups and said, 'Can you help us find folks,' and they brought us whole binders full of women."
This quickly led to a whole range of mocked up images. We reckon the best is this one of former president and infamous womaniser Bill Clinton.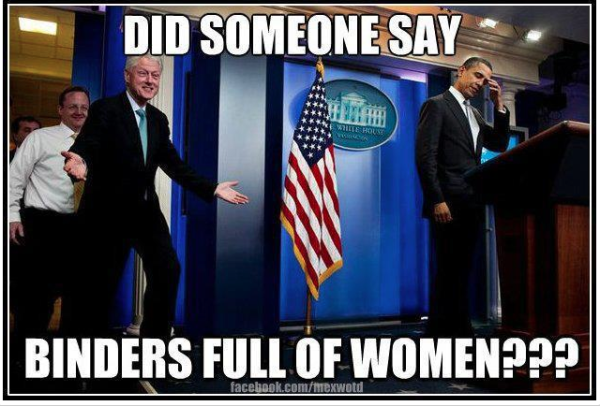 So there we have it. Whilst the two campaign teams have been working tirelessly over the past year for their candidates, so has the online community. Satire has always gone hand in hand with politics and with the internet now making it so simple for trends to develop instantly, we're in a golden age of mockery. Even so, you may be feeling a little like the sentiment on the first picture at the top of the page.
Share with friends