A Trip to Wembley Stadium: England 2-3 Holland

The Home of Football. It's a big name to live up to, especially with the England football team's woeful recent history. But, whilst the team may be struggling along without a permanent manager or captain, Wembley Stadium certainly does not disappoint.
With Euro 2012 now just three months away and the England team dominating the football news in the last month, there was a sense of confusion, but also anticipation in the run up to the game with Holland last night. It was with this backdrop that I caught the tube out to West London.
'A Sea of Orange'
As you step out of Wembley Park station, you are met by the famous lit up arch of the new Wembley (below is my photo, above, as you may have guessed, is not one of mine. It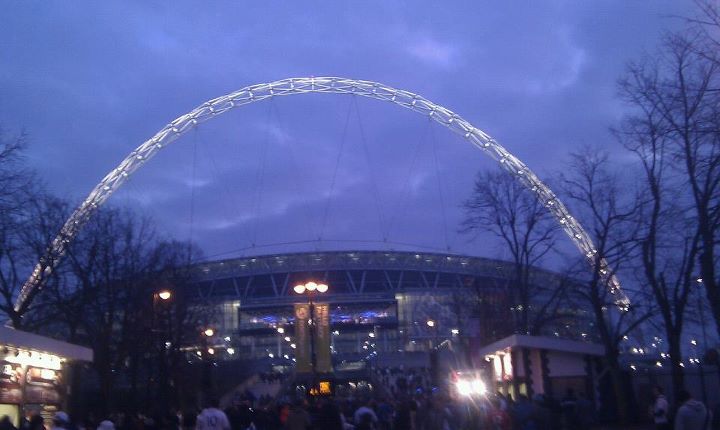 looks a lot nicer than my efforts though eh?) It is genuinely impressive and a worthy replacement for the old stadium's iconic 'Twin Towers'.
After having a quick wander around, I found a bar for a couple of pre-match pints. Immediately I was immersed in a sea of orange, with Dutch fans dressed as everything from orange monks to orange generals. There was a friendly atmosphere between the two sets of fans, with England fans chatting to the Dutch and asking for photos with them (that gives you a clue about how mad their costumes were).
Muted Atmosphere
As I headed into the stadium, it is the sheer size of it that strikes you. Despite it not selling out, it was still a huge attendance for a mid-week Friendly, and most sections of the stadium were packed full. As the game kicked off, and England created a couple of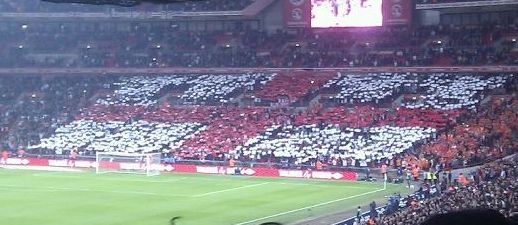 half chances, the crowd noise was building nicely.
Unfortunately, this wasn't to last, as the atmosphere became somewhat muted or even aggressive towards England as the match went on. However, for a Friendly which is still 0-0 athalf-time and is then 2-0 to the away team for much of the second half, that sort of atmosphere is to be expected. Despite this the brass band did their best, bringing out all the classics, from 'The Great Escape', to 'I'm England 'til I Die', and when England scored their two goals late on, the true noise of Wembley was heard.
Hope for the Future?
So, what of the game? Despite the loss, this was an England performance to take hope from. A very young, inexperienced side were up against the World Cup finalists playing a full strength team, and for much of the game England held their own. Daniel Sturridge and Danny Welbeck showed flashes of the talent that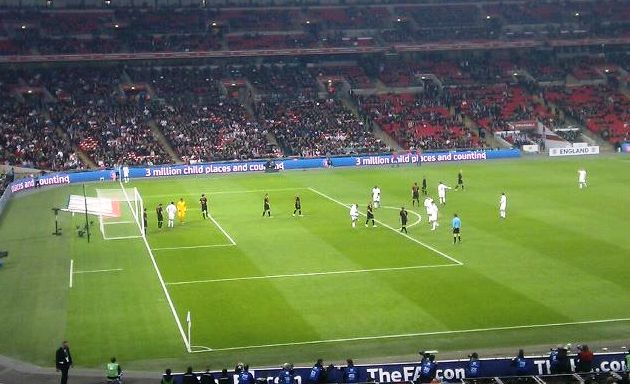 makes them such exciting prospects, whilst Chris Smalling and then Phil Jones generally dealt with the frankly terrifying Dutch attack quite well. Scott Parker looked like he was born to captain his country and it is amazing when you see it live, just how well Joe Hart marshals the defence.
However, the most promising (and surprising) aspect of the whole game was that England actually passed the ball (!). Instead of simply aimlessly hoofing it 'up top', the defence looked for measured balls through to the midfield. If there was nothing on, they were happy just to keep possession and look for a gap, despite the protests of much of the crowd. This, for England, is progress.
As the 75,000 odd people slowly filtered out of the stadium, there wasn't a sense of anger or disappointment, but the feeling that England may finally be building for the future. Another way to look at it is that losing and conceding three goals at home, at 'Fortress Wembley', is no longer unusual, which is indicative of just how far English football has fallen on a global level.
Regardless of the state of the team, Wembley can justifiably be called one of the best stadiums in the world, and is certainly worth visiting during your stay in Britain.
Andy is Editor at ForeignStudents.com.
Connect with Andy Burrows on Google+
Share with friends