Watch: Police Dance Off At Notting Hill Carnival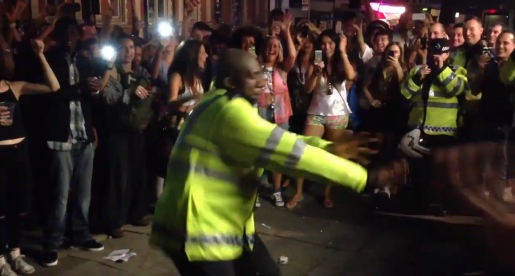 Europe's biggest street festival took place in west London over the weekend, as more than a million people joined the party at Notting Hill Carnival.
Usually the revellers will try to keep their distance from the huge numbers of police, but this year, amongst all the normal stories of arrests, a more feel-good video has emerged of police officers having a dance off with members of the public.
Notting Hill Carnival is an annual street party in its 49th year celebrating Caribbean culture, food, music and dance. Due to the huge numbers of people, the party atmosphere and the large amounts of alcohol and drugs knocking around, there were 6,000 police at each day of the event.
Although there were 279 arrests over the two days, there was no real violence and a police statement read that the festival "went very well" and crime was down on previous years. Along side this, an officer called PC Armstrong posted a link on Twitter to the video below with the caption: 'good community relations in my opinion'.
Share with friends