Erik's View: Alex Ferguson, Jelly Wrestling & the Importance of Sleep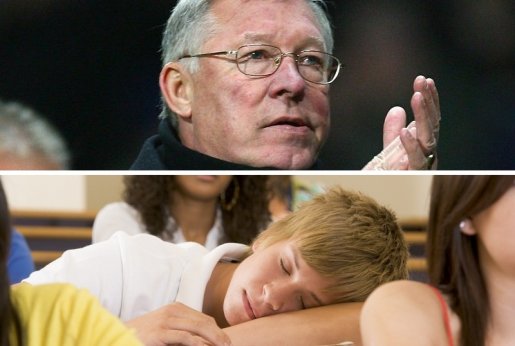 Erik Redli is a university graduate from Slovakia who is currently living in London. Each week he gives his view on the events of the last seven days. Today he looks at Alex Ferguson retiring, the importance of sleep and jelly wrestling at Cambridge.
Fergie Retiring
Alex Ferguson retired after 26 years as manager of Manchester United yesterday.
"In the world of professional football, Sir Alex Ferguson is a synonym for longevity and permanence.
Yesterday I was walking in Westfield and came across an exhibition of photographs, capturing the most important moments in the history of the UEFA Champions League. Right in the entrance I was almost run over Liverpool players celebrating their triumph in 2005. Alongside that, I could not overlook the unforgettable Manchester United triumph from 1999, with David Beckham's blonde hair hidden behind the much bigger stars of that era.
However, Sir Alex Ferguson was clearly visible. His connection with Man Utd is even bigger than Paolo Maldini and AC Milan, who is also seen hoisting the trophy in the photo from 2003.
I don't think Ferguson's step down should be considered the end of an era, because he will take over the role of director and ambassador."
The Importance of Sleep
New research shows that sleep deprivation is a big reason for pupils underperforming throughout the world.
"We underestimate the importance of sleep which, like nutrition, is essential for mental and physical performance, as well as general wellbeing.
According to the statistics, students from Slovakia - where I used to work as a teacher - are amongst the least sleep deprived. No wonder, some of them would sleep even during the lessons. But they had no other options, as their night time was occupied by playing computer games."
Jelly Wrestling at Cambridge
There is growing pressure on a drinking society at Magdalene College, Cambridge to stop bikini jelly wrestling.
"Last week the students at Oxford were banned from bringing a live shark to the university party, now their rivals at Cambridge have to stop the bikini jelly wrestling. I would not regret this, because the students are bound to come up with something new, better (with more jelly and maybe even without bikinis) and not-prohibited for a short time until that too is questioned by the authorities."
Read more posts from Erik here.
Share with friends