Erik's View: Farewell to the Iron Lady and the Marathon Tragedy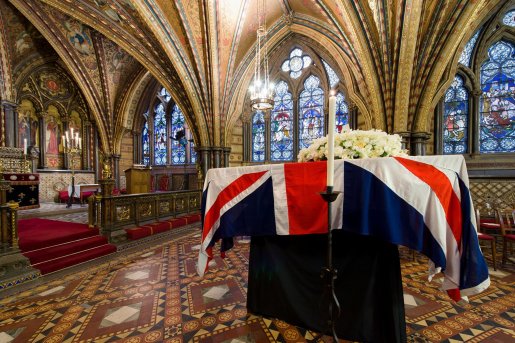 Erik Redli is a university graduate from Slovakia who is currently living in London. Each week he gives his view on the events of the last seven days. This week, he looks at his experience of Margaret Thatcher's funeral, and the Boston Marathon bombings.
"London lives with two main events this week in mid-April."
The Iron Lady's Funeral
"Even the most alien visitor must have realized that something big was happening in London on Wednesday. Who knows if there would have been 8 police officers deployed inside the St Paul's tube alone if not for the Boston marathon tragedy that showed the extraordinary security measures needed. Even the security guys from the nearby building stood out in the streets to look like important.
Outside the station I tried to make a photo of a leaflet lying on the street inviting me to some kind of Thatcher party. But it was blown away by the wind the moment I approached it. Respecting the right for eternal rest, I joined the other mourners and visitors.
We were ushered by the police and organizers to the improvised corridor that took us to the ticket entrance at St Paul's Cathedral. No further, as it was only for the family, invited politicians and personalities. I would like to meet Henry Kissinger or Boris Johnson, but it is not polite to talk inside a church anyway.
The small square was about half full of people, half of which were businessmen rushing for their lunch. At twelve, the Bells of St Paul's tolled. I don't know whether this was in honour, but it definitely seemed too much only to announce midday.
Many people objected that the money spent on the procedure from Westminster could have been used elsewhere. On the other hand, great politicians deserve a little bit of public tax, even after their death."
Changed Perception of Marathons
"Another event going on this week is the London marathon that will take place on Sunday. Although I exercise regularly, I am not used to over 3 hour endurance events and lack the energy reserves. Therefore I will be only a spectator. I expect many policemen, reinforced by the tragedy at the Boston marathon.
I'm afraid I've nothing to add, other than to just point out two bitter facts:
First, the bombs went off when the timer was showing a few minutes after four hours. It means that those who came first were already finished. Once again, it did not pay of to finish later.
Secondly, the first marathon ever run heralded news of the end of a war. It seems that at the Boston event another war started. A war that will cause even the upcoming London marathon to start in a different atmosphere.
Best wishes to everyone running and I sincerely hope that next week I won't be writing about another marathon that ended with crippled runners."
Read more posts from Erik here.
Share with friends