Olympic Diver Tom Daley Reveals Relationship with Man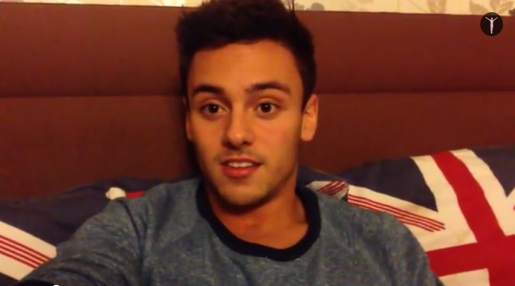 One of Britain's biggest sports stars Tom Daley revealed yesterday that he is in a relationship with a man. In a YouTube video, the London 2012 bronze medallist said: "In spring this year my life changed massively when I met someone, and they make me feel so happy, so safe and everything just feels great. That someone is a guy".
In the personal video, which has already had more than 4.5million views, the diving star goes on to explain:
"It did take me by surprise a little bit. It was always in the back of my head that something like that could happen. But it wasn't until spring this year that something just clicked. It felt right and I thought 'OK'. And my whole world changed there and then."
You can watch the whole moving video below.
One of the Few Sportsmen
It is still very rare for men and women in sport to come out as gay, and Daley is probably the most high profile British sportsman ever to do so. Despite the thousands of footballers, rugby players, cricketers and athletes that dominate the back pages of newspapers, the number who have ever revealed they are homosexual can be counted on one hand.
Indeed, the list of other British sportsmen to have come out is unbelievably short. Since ice skater John Curry in the '70s and footballer Justin Fashanu in the '90s, there has only been English county cricketer Steven Davies and Welsh rugby international Gareth Thomas who have both come out in the last five years.
None of these four were anywhere near as well known as Tom Daley is amongst the general public. Ever since he burst onto the diving scene as a 14-year-old Daley has lived his life in the public eye. His fame and success reached a pinnacle last year when he won a bronze medal at the London 2012 Olympics before going on to have his own TV diving show 'Splash!'. Still only 19-years-old, he is expected to compete for Britain for many years to come.
"Incredibly Courageous"
Since his announcement, there has been a huge positive response from other people in sport.
Edward Lord, chairman of the Amateur Swimming Association, said: "To be one of the first British Olympic athletes to come out is very brave. We must all support Tom in taking this incredibly courageous step. I am very proud of Tom".
A number of celebrities joined the chorus of praise on Twitter.
I opened the second door on my advent calendar and Tom Daley came out. Seriously @TomDaley1994 congratulations. So happy for you.

— Stephen Fry (@stephenfry) December 2, 2013
Delighted that @TomDaley1994 is happy in his new relationship. Well done for sharing it. Good luck to them both.

— Gary Lineker (@GaryLineker) December 2, 2013
.@TomDaley1994 Well done sunshine, dive into love.

— Russell Brand (@rustyrockets) December 2, 2013
You don't have a choice to be gay, bisexual or straight but you do have a choice whether to be honest, open & proud. Respect @TomDaley1994

— Clare Balding (@clarebalding) December 2, 2013
A few hours after releasing the video, Tom took to Twitter to thank everyone for the support.
Overwhelmed by all the support! Means the world! Thanks so much guys ❤️❤️❤️

— Tom Daley (@TomDaley1994) December 2, 2013
Share with friends