University of Manchester Students' Union
Quick Facts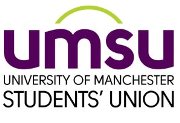 Tel: 0161 275 2930


The University of Manchester Students' Union (UMSU) is the largest in the UK. It is unusual in the fact that it does not have a president, but is instead run by a 14 member executive team, who all share responsibility and power.
The union owns a number of different venues ranging from small, relaxed bars to full on concert venues that host some of the biggest names in music. On top of this there are hundreds of societies within the Union, including everything from religious, to sporting, to academic clubs. As part of these, the Union runs its own student newspaper (The Mancunion) and radio station (Fuse FM).
One thing that the UMSU is particularly well know for is the biannual Pangaea Festival. This is reportedly the largest student-led festival in Europe where 4000 students gather for a music and arts night held throughout several different venues.
Latest News and Events
| | | | | |
| --- | --- | --- | --- | --- |
| | | The University of Manchester was formed in 2004, connecting the Victoria University of Manchester and the University of Manchester Institute... | | |