Cannes 2014: From Gender Issues to Money Troubles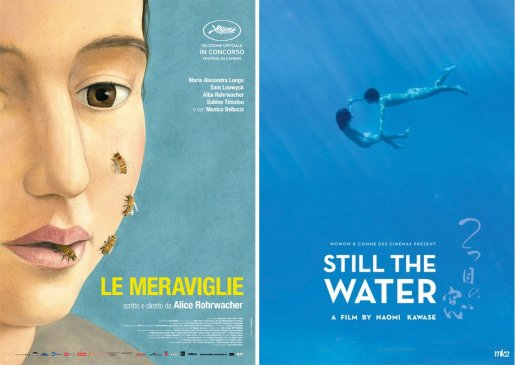 Séamas McSwiney has decades of experience in film journalism, and work published in top international publications. As our guest film correspondent he will be sending us special reports from the Cannes 2014 film festival.
More than halfway through and it's time to look back and forward to see if we can spot winners and thematic trends among the films in competition. The kick-off topic was the perennial Woman in Film debate; both in front of the camera and behind it, what is made of women's identity and if women get enough opportunity to give their vision.
Italy's Alice Rohrwacher's The Wonders and Japan's Naomi Kawase's Still The Water both employ the mysteries of mother nature as a sounding board for human nature. The former does so in a hippie-ish pastoral Tuscan environment involving beekeeping, the latter on a storm lashed island in Japan as it explores fishing, death and the depths of human fidelity. Both films contrast the intelligence of boys and girls. Guess who come out best? Both are free flowing, individualistic and stylistically ambitious; audience patience is rewarded ...or not.
On another thematic front, three of the stronger films in competition focus in quite different ways on ideas of social class, power and money; the characters' dilemmas, downfalls and redemption are directly related to whether they are rich or poor.
Turkey's Winter Sleep by Cannes favourite Nuri Bilge Ceylan clocks in at more than three hours as it explores family relations in a winter landscape in Anatolia. The tensions reveal themselves when a wealthy retired actor and landlord discovers that some of his tenants have encountered difficulties in paying the rent. His administrator has obliged them to sell the fridge and TV to pay their debts, provoking a violent window breaking outburst from a boy that leads to exhaustive and exhausting debates and dialogues. The turn of events emphasise the compromised pride and vulnerability of the poor, but also unpicks the mental fragility and moral dissention among the cultivated wealthy. A favourite already among many critics.
Foxcatcher is a very different film, though it also touches on the power that money has to destroy people, both the rich that have it and the poor that need it. An American film, made by Bennet Miller, it has an all-star cast whose thespian magic make them all but unrecognisable. In a true story about the American Olympic wrestling team in the mid '80s, Mark Ruffalo and Channing Tatum play two brothers, both working class champions. Mark, the younger, becomes "adopted" in an increasingly sinister way by John DuPont - of the chemical dynasty and the wealthiest family in America. He is played magnificently in all his frighteningly damaged persona by Steve Carrell, an actor more commonly associated with lighter comedic roles.
Ever true to themselves, Jean-Pierre and Luc Dardenne from Belgium, already twice Palme d'Or winners, return with another moral dilemma or set of dilemmas. In Two Days, One Night, Sandra, played by Marion Cotillard, is returning to work after being on sick leave for depression. Her 20 or so co-workers have been informed that if she is to reintegrate their crew, in a small company that manufactures solar panels, they will have to sacrifice their promised 1,000 euro bonus. All of the workers families are under severe financial pressure. The vote went heavily against her, though it was judged to have been unfairly carried out. The vote will be rerun on Monday and Sandra and her husband have Two Days and One Night to save her job ...and her sanity.
A number of other films are also impressing the pundits so far. Mike Leigh's Mr Turner reveals the inner landscape of the famous British painter, Abderrahmane Sissako's Timbuktu takes us to the pastoral but troubled desert landscape of Mali, which is increasingly prey to sharia law, and there is another very different journey to Argentina for Wild Tales - a six pack of darkly comic stories of people who snap and let things get deliriously out of control, brilliantly directed and marvellously acted.
Read more of Séamas McSwiney's posts here.
Share with friends