Cannes Femmes Cineastes

Film is often criticised for being a man's game; women get a look-in as long as they are lookers to be looked at and objectified, adding texture and focus to the man's role and the director's gaze. The Cannes 2011 poster (as seen here) seems to reinforce this cinematic archetype with the fabulous Faye Dunaway, in a photo from a bygone era, gracing the festival poster and three facades of the Palais. "Women's legs are compasses that circle the globe, giving it its equilibrium and harmony" is the charmingly macho Francois Truffaut quote given in the press kit that underlines the "classical" thinking behind the elegance of the poster choice.
Cannes too, despite its multicultural politics, is a notoriously male domain when it comes to film directors. Women are celebrated for their beauty and acting talent, men for their –often tortured– artistic vision and soaring flights of imagination. However four of the 20 films in competition this year are by women. While 20% is not quite parity, it is a high ratio by usual standards. And if the first three of these films are anything to go by, the auteur-girls can be as tortured and pessimistic as the boys exploring, as they do here in the 2011 crop, themes as hardcore as a particularly perverse type of prostitution, a murderous oedipus complex and the protection of children from very nasty crime.
Sleeping Beauty (above), by Julia Leigh, is from Australia. It tells the linear tale of a cool-headed young student, Lucy, who does any job she can to pay the rent and keep her studies on track, from restaurant cleaning to participating in medical research and even doing a little escort work. She winds up earning top dollar working as a 'sleeping beauty', where she is voluntarily drugged to become the plaything of wrinkly old men. She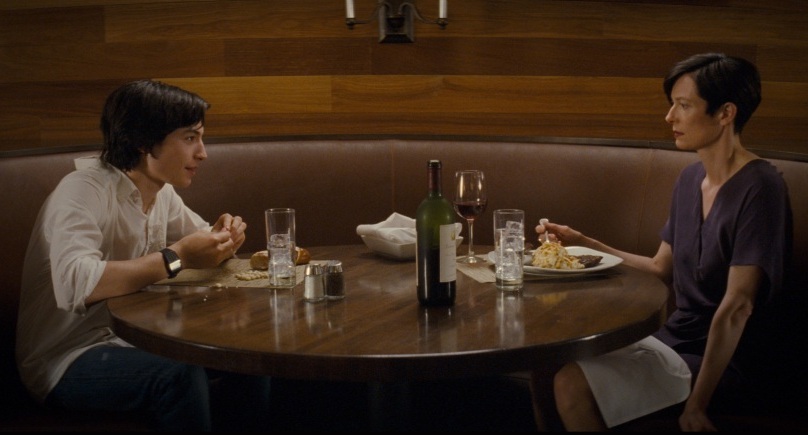 wakes up and remembers nothing until her curiosity gets the better of her and she devises a way to film what happens so that she can know...
Lynne Ramsey's We Need to Talk about Kevin (left) constantly moves forward and backwards in time to tell of the intensely destructive relationship between a woman and her troubled son. The fraught mother, Eva, played by Tilda Swinton has postponed her career ambitions and unwillingly moved from New York to the leafy suburbs of Connecticut to start a family with her husband. She wakes up one morning to find the house she now lives in alone covered in red paint. We flash back and forth as the 16-year story is deconstructed and pieced back together like some nightmarish jigsaw leading to a place like Columbine. Ramsey's sure directorial hand ensures that this particularly diabolical piece is never easy to watch, while remaining compelling. It's enough to make any career-minded woman think twice about the post-natal risks of motherhood.
An ensemble piece completes this harsh trio of femmes films. Where the dialogue was mostly spare in the previous two movies and the pictures did the talking, Maïwenn's Polisse is a verbal torrent where everyone seems to shout and talk at the same time as each other. It's about a special French police squad that investigates crimes relating to children in the Northern part of Paris. From the get-go we see very young children being subjected some serious interrogation to ascertain whether or not they are the victims of incest and then we quickly move on to an unconvincing raid on a Roma caravan site to rescue kids forced into pick-pocketing and prostitution.
All three are ambitious in their aims but none could be accused of containing feel-good factor or anything remotely optimistic. Here's hoping that the fourth, the Japanese Naomi Kawase's Hanezu will give us something that makes life seem worth living.
---
Séamas McSwiney is our guest film correspondent and is currently reporting for us directly from Cannes. He has decades of experience in film journalism, with work published in some top international publications.
Share with friends