Isle of Wight: A Student Travel Guide

One of the best things about living in the UK is how quick, easy and cheap it is to get around Britain and to mainland Europe. For short weekend breaks there are so many options it can be hard to decide where to go. To help you out we are creating a series of guides to places throughout Britain and Europe that are perfect for short holidays. If you have been anywhere exciting in Europe and want to write a short guide, then please get in contact with us.
Here, ForeignStudents.com Editor Andy, describes his weekend spent on the Isle of Wight.
The Isle of Wight, England
The Isle of Wight is an English county with a difference. It is an island (surprise, surprise) a couple of miles off the south coast of England in the English Channel. As well as mile upon mile of beach and unspoilt scenery, it has a number of traditional towns and villages.
Getting There
The Isle of Wight is so easy to get to from London or further north in England. From London Victoria, we got a Greyhound coach which dropped us at the port in Portsmouth. From there we got a hovercraft (!) which takes just 10 minutes to the island.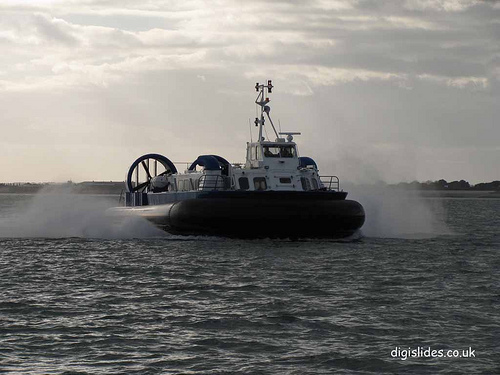 The whole journey takes less than 3 hours, and costs just £30. Bargain.
An alternative is to get a bus down to the south coast (which, with Megabus will be even cheaper) or if you are short on time you can catch a train (get cheap fares here). As well as the hovercraft, you can also get a ferry from Bournemouth which takes slightly longer, but is cheaper, or you can get a ferry from Southampton.
Once you arrive on the island, the bus system is really good, and you should be able to get a bus directly to where you are staying without much hassle of waiting around.
Accommodation
Though I was lucky enough to have free accommodation (the perks of having a sister who lives by the sea), the island has literally dozens of hotels and B&Bs. Whatever your budget and requirements there will be something for you, though on a students budget a hostel or Bed and Breakfast may be your best bet.
Often family run, accommodation like this can also be the best way to experience true 'islander life'. If you get chatting to your hosts then they will be more than happy to tell you about the best places to go and things to see, as well as hopefully giving you very generous breakfast portions. You can search for B&Bs here.
We stayed near Ventnor on the south coast of the island, though there are several nice little towns on the coast that would be perfect for weekend breaks. Sandown, Yarmouth, Cowes, Bembridge and Newport are other possibilities.
What You Should Do
Though you can easily spend a long weekend in any of any single town on the Isle of Wight, you may want to go exploring a bit. Below are some of the highlights you should try and attempt during your stay:
Go for a coastal walk: Much of the scenery on the Isle of Wight is stunning. Green rolling hills mix with harsher coastal landscapes, making it the perfect place to enjoy a walk. What's more, due to its location, the climate on the island is warmer than almost anywhere else in Britain, making it (slightly) less likely you'll be caught in a wet, freezing downpour.
Eat at The Hambrough: The island has a vast array of restaurants and pubs to eat at, but there is just one place with a Michelin star- The Hambrough. As you would expect from a fine dining restaurant, it is quite expensive, though you can get a 3 course lunch for £30. I had the pleasure of eating there and it is well worth it for a treat. However, if you are on a tighter budget, then the nearby Pond Café is run by the same chef and has far more student friendly prices.
Visit the Zoo: The IoW Zoo is famous for its big cats. Its tigers, lions and jaguars, attract huge numbers of visitors each year. Its most famous resident is Zena, a white tiger. There are also rumours that the cats all get walked along the local beach some nights, so watch out for that if you're going for a late night dip.
Go to a music festival: The Isle of Wight hosts not one, but two famous music festivals. The Isle of Wight Festival has one of the richest histories of any festival on earth, with some legendary performances in 1968-70. Revived in 2002 it still attracts some of the biggest names in music when it is held in June each year. The Festival's smaller brother is Bestival. Held in late summer since 2004, it is known for it's alternative outlook, as well as its stunning line-ups.
Top Three Tips
Use the public transport. The buses go all over the island and are fairly regular and cheap. It isn't a large place, so you can travel between towns quickly, to see what the whole island has to offer.
Take in island life. The Isle of Wight definitely has a different 'feel' to it compared to the mainland. You'll only fully be able to take this in if you immerse yourself in its life. Talk to the locals, spend time in the pubs.
Choose the time of year carefully. The island changes completely depending on the time of year you go. In the summer, you obviously get the good weather (in theory) and all the tourist attractions are open. However, the island is also full of tourists all doing the same thing. If you prefer a quieter experience and don't mind about the weather, then the spring or autumn may be better for you.
Connect with Andy Burrows on Google+
Share with friends