Latest Protest Against London Met Decision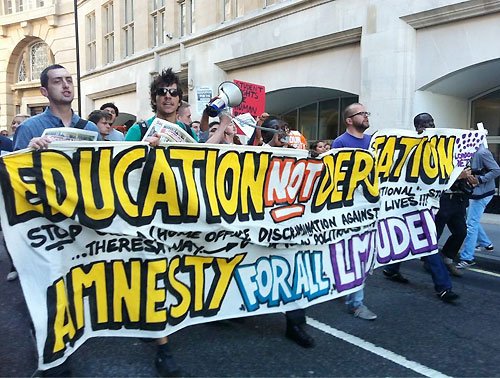 The latest protest against the decision to revoke London Metropolitan University's license to teach international students took place yesterday outside the Home Office and Downing Street. Around 200 student and staff from the university joined together, with the foreign students who must now transfer universities or face deportation leading the demonstration.
This is only a latest in a number of protests and outspoken statements from various well-known figures against the UK Border Agency's decision to remove London Met's status as a 'highly trusted sponsor' for non-EU students. The decision made less than a month before the start of the new academic year left thousands of students stranded.
In an attempt to minimise the damage, a number of the largest higher education organisations in the UK met yesterday to try and work out the best way forwards for the students left stranded by the decision. They hope to be able to offer every one of the international students who have been left without a place at London Met, place at a different university instead. A clearing system is expected to be announced shortly.
Angry Protesters
However, in many cases it simply won't be as easy as transferring to another university. A number of the students at yesterday's protest are mid-way through specialist courses at London Met and are concerned that they will not be able to find suitable supervisors at other universities. Those who had been offered a scholarship are also in a precarious situation.
Ayoola Onifade, an international student and president of London Met's student union, made an impassioned speech to the protesters yesterday, arguing "We are not illegal immigrants". Similarly the NUS International Students officer Daniel Stevens told the crowd
"I live in fear every single day of the UKBA. I live in fear that I will make one mistake on an application form and that will be it. I live in fear that I've done something wrong. The truth is that international students in the UK are being treated like criminals."
Legal Challenge
As we revealed on Tuesday, London Met are also pressing forwards with a legal challenge against the decision. They are taking the case to the high court, and if the judges decide to consider a judicial review then the decision could even be temporarily reversed.
Whilst UKBA's decision was being considered by the high court, London Met would once again be allowed to accept and teach international students until a final ruling was made. This could take many months and would give those involved far more time.
The video below shows yesterday's protest in London:
Share with friends