Olympic Torch Begins Its Journey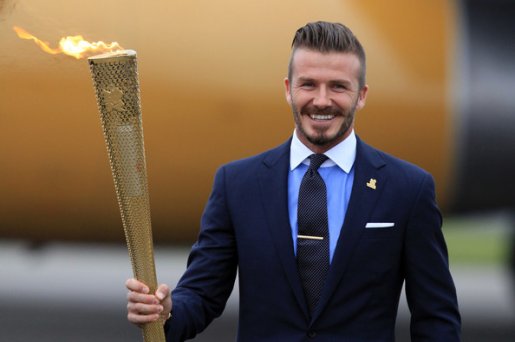 It is Day 3 of the Olympic torch's relay through the UK, and already over 250 people have carried the torch as part of its 70-day relay for the London Olympics 2012. Today the torch will be passed between 113 torchbearers, including triple jumper Jonathan Edwards and cricketer Marcus Trescothick, as it travels between Exeter and Taunton.
The Journey So Far
After travelling around Greece for a week, the lit torch was flown over to Britain in a special gold-painted plane with a rather unusual set of passengers. Amongst others, the passengers watching over the torch included London mayor Boris Johnson, Olympic organiser Lord Seb Coe, David Beckham and Princess Anne.
After arriving in Britain for the first time on Saturday, it was the honour of three time gold medal sailor Ben Ainslie to carry the torch on the first leg of its journey. A crowd of 50,000 had gathered to meet the torch in Cornwall, and thousands more lined the streets to watch as the torch was passed between athletes and regular members of the public on the first day of its mammoth journey.
After a long first day, Day 2 saw a further 121 torchbearers carrying the flame between Plymouth and Exeter on the south coast of England (and it's only gone out once so far!).
Torches Found on eBay
One bit of controversy that the torch has created so far, was created when a number of them were discovered on eBay. The torches have only been given out to torchbearers, and in total around 8,000 of them have been made. London 2012 officials say they are worth £495 but were sold to the bearers for £295. However, after only one day, they were selling for as much as £4,000 each. One was even going for £150,000 but it is thought that this had been inflated by false offers from bidders angered by the sales.
One torchbearer has revealed she will be selling her torch after her relay, but has strongly defended herself. Sarah Milner Simonds from Somerset explained:
"I noticed that the first Olympic torch had been put online and it sold for over £2,000. I said 'Oh my god, that's insane' - imagine what good you can do with £2,000."
You can see the route the torch is taking and watch a live feed of it as it continues its journey on the BBC website.
Share with friends