A Student Guide to Visiting Mexico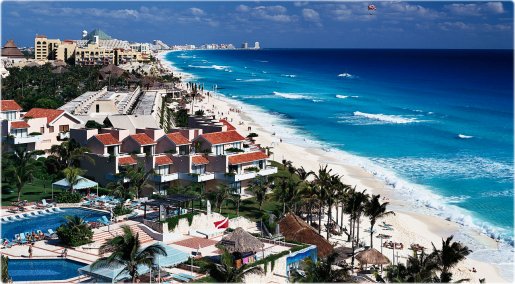 Mexico impresses the visitor with both its scale and diversity; a land of tempting eats, jungle hikes, paradise isles and the ruins of an ancient empire. It's also a country where your money will go a long way.
This is all good news for the thousands of student and gap year travellers who take holidays to Mexico, through budget providers such as www.holidayhypermarket.co.uk, every year. Armed with a few tips, you can eat, party and sleep here for the price of a meal out back home and there's a wealth of natural and cultural attractions to try in between.
There's no doubt that Mexican accommodation is a steal. Here, hostels are not the only cheap way to stay, with some budget hotels costing under £10 a night in the capital, Mexico City. Staying by the coast in a big resort like Cabo San Lucas or Cancun (pictured above) will up the prices, but some do reasonable all-inclusive deals if you're just here for a two-week break in between semesters. You could try out life the Mayan way if you're heading to the beach; sleeping in a hammock under the insanely low-cost roof of a beach hut or cabana.
If you're after the cheap "beer bucket" and cocktail nights out, try the Caribbean coast resort of Playa del Carmen. Further north, Cancun is most people's number one party town but quality beach-front hotels do charge more - stay in the centre for budget accommodation and access to food markets and eateries during the day.
Do make time to see at least one of the ancient sites in the area; if Chichen Itza promises too many crowds and a lengthy day trip, try Tulum for its spectacular cliff-top ruins. You may have to share Mexico's original resort, Acapulco, with the spring-break crowds but they do guarantee an abundance of drinking and clubbing deals.
For something a little different, Xalapa is a big student town, with several universities and a thriving cultural scene. East of Mexico City, it's surprisingly green owing to nearby subtropical forests and has plenty of free attractions; botanical gardens, museums, as well as the winding, cobbled hills of the centre.
Alternatively, spend a few days or weeks in the capital itself for its winning mix of colonial grandeur, sprawling suburbs and inner-city parks, all accessible through a single cheap ticket on the far-reaching Metro system. By night, Mexico City's trendy districts like Condesa and San Angel come alive, boasting hipster boutique bars and great live music venues.
Travel around the country is also inexpensive, giving you a good reason to see as much of it as you can. Old-world cities like Oaxaca, the breath-taking Copper Canyon to the West and sleek resorts like Puerto Vallarta could not be more different in terms of Mexican experiences.
There's virtually no rail network in Mexico to speak of, but there are comfortable, air-conditioned buses available on many routes. Wherever you end up, keeping to a budget in Mexico is a lot easier than many destinations and, for your money, you get colourful culture, Tequila nights and beautiful beaches to laze on.
Share with friends