Student Travel Guide to the UAE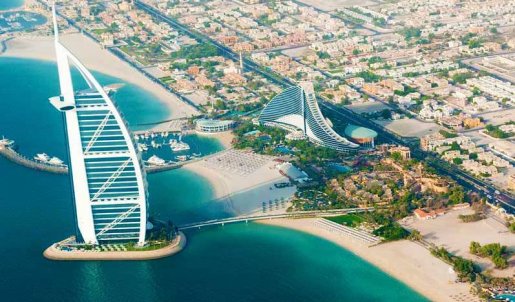 The United Arab Emirates is a fascinating area to visit, proudly proclaiming its glamorous cities and spending culture whilst retaining a deep sense of Bedouin heritage and Muslim traditions. Though the federation states' reputation is based mainly on the deluxe hotels of Dubai and the big business of Abu Dhabi, as a student you can still get more for your money with cheaper airfares, free short-term visas and plenty of hostels for those on a budget. With this in mind, here are a few tips on how to plan your UAE trip.
As far as entry requirements go, your standard, 30-day tourist visa is fairly straightforward for UK citizens and free, though these can also be extended for another 30 days for a fee. If you decide to look for employment, probationary, 3-month visas are available once you're here but make sure you don't breach any deadlines to avoid hefty fines. If you are of a different nationality it is best to check what the restrictions are before you travel, for example many will not have to apply for a visa in advance but others will, dependent upon which part of the world you are from. Find out more about the restrictions here.
Money is easily changed at most of the major centres and shopping areas, with local exchange bureaus offering the same or better rates than the banks. However, it's often a good idea to use credit cards in the UAE as they are protected by insurance and mean you don't have to carry wads of cash around with you. Moreover, it never hurts to have that access to instant cash via the ATM, in case you do need to change your plans.
Health precautions are not extensive for the UAE, as the tap water is safe to drink and the level of immunisation good, meaning that you don't need vaccinations for a holiday or extended summer of work here. It may be worth looking into health advice for particular areas, if planning a longer stay or gap year travel. Cities like Dubai are comparably safe to visit, though normal precautions are advised when using public transport and caught in busy crowds.
It's important to be aware of native customs in the UAE, as 95% of the population is Muslim and there are therefore rules you may be unused to. Women should dress modestly when away from the shore, covering shoulders and legs - though in Sharjah, bikinis are not allowed on public beaches either. Public displays of affection are likely to offend and although alcohol is permitted for Westerners in hotels and bars, watch out for the festival of Ramadan, when drinking - and eating - is not allowed in public during the day.
As long as you exercise appropriate caution and respect, there are plenty of good times to be had in the UAE. You might be flexing your credit card at the sight of the world-famous Dubai Mall, but make time for the historic quarter around Bastakiya, or view the extraordinary hustle and bustle from a water taxi ride along the creek. To the east lie old settlements like Al-Ain with its camel market and pottery displays, while history and archaeology students will revel in the 5,000 year-old excavations at Hili. Once you've had your fill of the Abu-Dhabi nightclubs, take a boat trip to one of its islands, like Qarn or Sadiyat.
Of the Middle Eastern countries, the UAE is more open to visitors than most and offers great opportunities for both social and cultural travel for students. With more than a million UK travellers coming every year, not to mention the thousands who live and work out there, the Emirates represents both a broadening of horizons and a safe place to explore, ideal for that first solo trip abroad.
Share with friends