Studying in Dubai: Life Outside of Lectures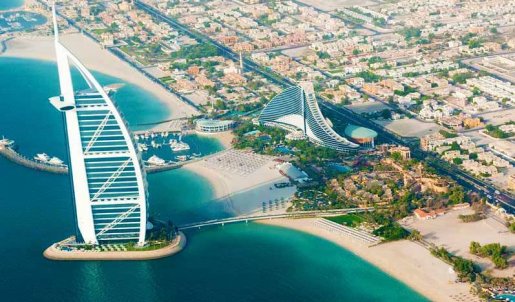 If you're studying in Dubai you'll be living in one of the most thriving, cosmopolitan cities in the world. Nearly half a million students choose to study in Dubai and this United Arab Emirates (UAE) city has a great deal to offer when it comes to off-campus activities.
Dubai offers a very high standard of living and boasts a diverse international student mix. Of course it doesn't hurt Dubai's popularity that this Emirate also has plenty of glamorous nightlife options, superb shopping and restaurants, not to mention some amazing beaches.
Eating in and out in Dubai
A reasonably low cost of living means that eating out in Dubai is inexpensive and there are plenty of value for money restaurants and cafes in the city. Dubai also hosts the big name international restaurants and coffee shops as well as some great-low cost traditional eating options in the markets and bazaars. You can enjoy immense shopping malls such as the Mall of Emirates, home to cinemas, 500 retail units, one of the world's biggest indoor ski resorts and around 100 dining establishments. You'd also be in luck if you prefer to order food in while you're studying, since there are plenty of Dubai delivery restaurants serving just about every cuisine imaginable.
Staying entertained in Dubai
When you attract as many holidaymakers per year as Dubai does, some 10 million, there has to be plenty to do. As well as the extravagant lifestyle, some will come for the amazing sightseeing options such as the Burj Khalifa, the world's tallest skyscraper or maybe it's the lure of the many golden beaches with year round high temperatures in which to enjoy them that entices so many visitors. Wandering around the beautiful covered and outdoor markets is another way to pass the time (and pick up a bargain) in this Emirate. Why not work into your spare time an excursion into the Dubai Desert or river boat cruises to the vibrant commercial district and further afield to the beautiful city of Abu Dhabi.
Getting sporty as a student
Educational institutes understand the correlation between fitness and good mental and physical well-being, and most universities in Dubai will have fully equipped gyms. The city itself also offers a huge number of sports activities not least of which swimming and surfing at the beaches. If you fancy skiing then, believe it or not, Dubai has an immense indoor ski/snowboarding resort called Ski Dubai - so big it even has its own ski lifts. Basketball, soccer, skateboarding and a range of watersports are all readily available in the city.
Living and studying in Dubai means an excellent standard of living and a second to none range of activities for those who like a busy social lifestyle. Studying is always hard work but Dubai has plenty of ways to help your relax and unwind during your free time. You can really work hard and play hard here.
Share with friends