Latest Piece Added to Graffiti Wall of Mayfair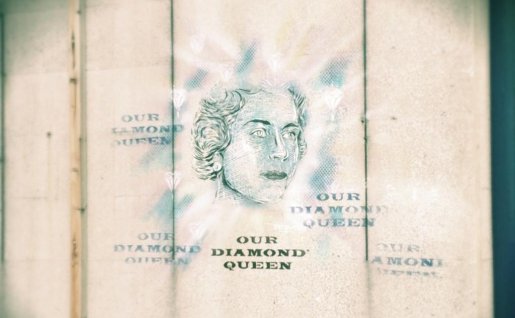 A bare, unassuming wall in Mayfair is quickly becoming one of the hottest outdoor art sites in London. Already covered in street art, a further addition to the collection appeared yesterday afternoon (30th April) depicting the Queen (above).
The disused building, on Bruton Lane, W1, first hit the headlines in November last year when an instantly recognisable piece by Banksy (below left) appeared two storeys above the ground. After we discovered and exclusively revealed the Banksy, it was quickly dubbed 'Shop 'Til You Drop', before it was confirmed as an official Banksy on his website.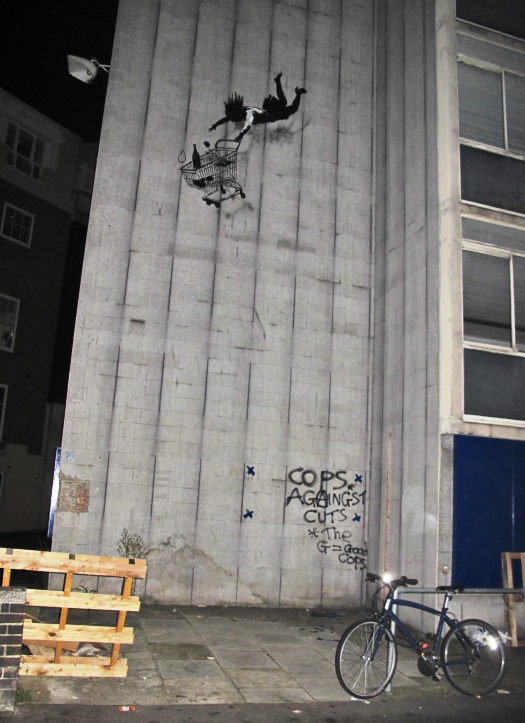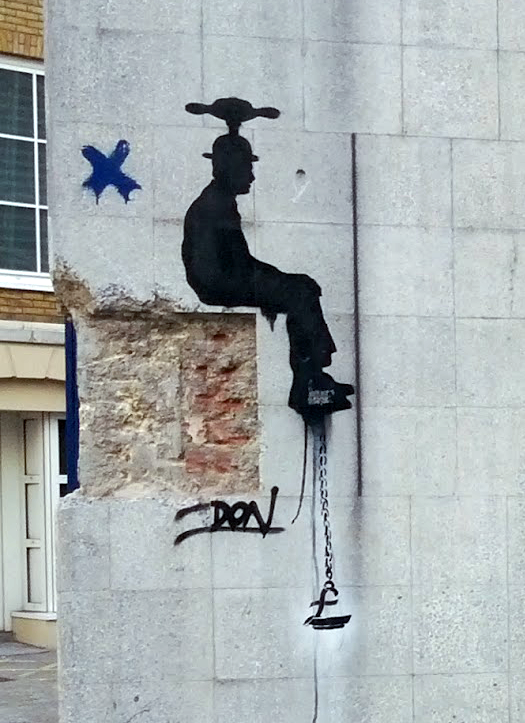 Banksy's falling woman Don's banker
This Banksy was soon joined by a second piece depicting a banker as a water tap (above right), tagged by lesser-known graffiti artist 'Don'. In turn, this was followed in February by a message from Banksy's notorious rival Robbo. Tagged with a Team Robbo image (below), an apparent threat to the Banksy piece was left, reading:
"No escaping us sonny xxx
you will need a cherry picker to put perspex over this one council"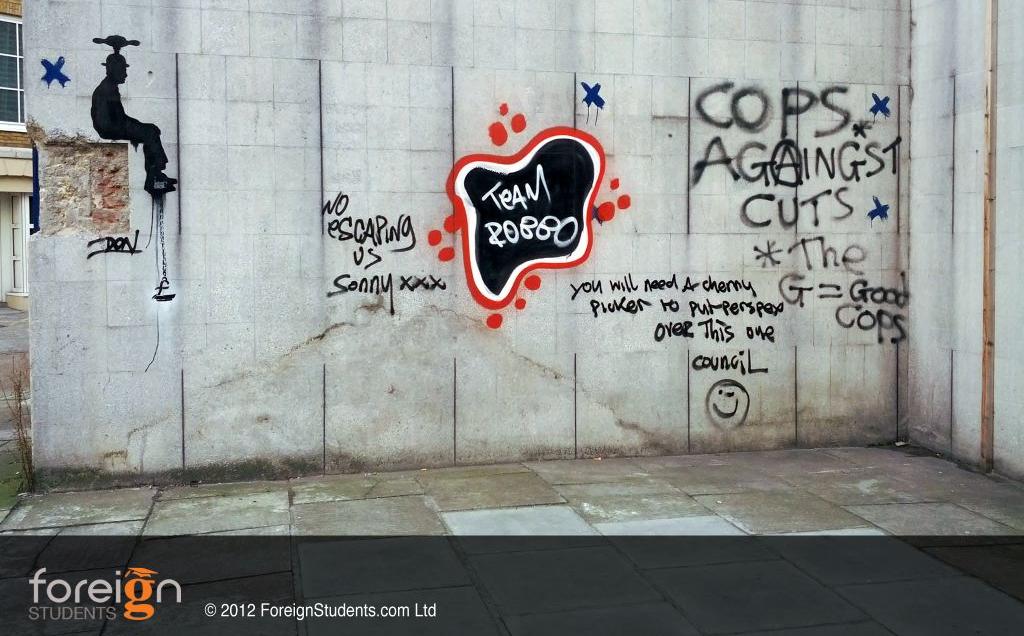 Team Robbo's threat
And this brings us to the latest addition to the wall- an image of Queen Elizabeth with the words 'Our Diamond Queen' repeated. The stencilled graffiti is tagged 'By Don', indicating the artist has returned to the wall for his second piece.
Whilst clearly referring to the upcoming Diamond Jubilee, the context of the piece and a knowledge of Don's previous work implies it is a satirical look at the celebrations. Continuing with the overall theme of the wall, it is likely a critique of the wealth and cost to tax payers of the royal family.
The Graffiti Wall of Mayfair
The wall boasts graffiti ranging from the detailed stencil of multi-million pound selling artists, to the unprofessional scrawl of a protestor against the government cuts. However, despite these disparate artists, there is a common theme running throughout every piece of graffiti on the wall. It is one that has been at the forefront of the nation's consciousness for the last two years; wealth and poverty.
Each piece is an attack on the very wealthy who are perceived not to pay their share (bankers, the Queen, Banksy's falling woman). Right in the heart of opulent Mayfair, the wall presented the perfect location to critique materialism and capitalism.
However, the wall has also re-opened the debate about when graffiti becomes art, and when it is just vandalism. Has this graffiti actually added to the value of the building it has been painted on, rather than disfigured it? The very fact that the pieces all tie in together, forming a coherent, political statement surely gives them a further credibility?
Who knows how the story of the wall will continue, but it's a safe bet to say that this probably won't be the last of the new graffiti to appear on this innocuous wall in Mayfair.
Share with friends